In today's busy world it can be a struggle to maintain your personal physical health while juggling the day-to-day work/home life balance. When it comes to personal fitness every excuse will keep you from achieving and maintaining optimal health. The most common excuse is not having enough time to get up extra early to drive to the gym on the way to work or fight the rush-hour traffic to make it to the gym after work. It is time to stop making excuses!
Why not transform your dirty, dingy, and messy garage into a convenient home gym? By skipping the added drive time to the gym, you will gain back the time it takes to complete a full workout in the convenience of your own home.
When it comes to giving your garage a complete home gym makeover, the solution is simple, choose your local GarageExperts® to transform your space. GarageExperts® professionals will give you a free in-home estimate where you will work together to create the perfect blueprint for your new garage gym.
Your new home gym will start with our Garage FX® Flooring System. With over 140 colors to choose from, your new floor can be customized to exceed your design expectations. Our flooring system requires minimal maintenance, and is easy to clean and resistant to temperature fluctuations.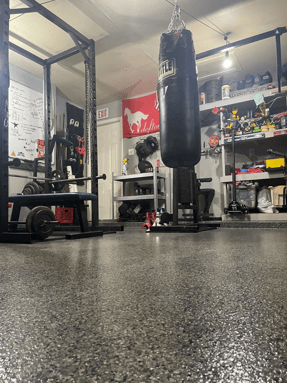 Whether you need a lot of space for your fitness equipment or maybe just a small space for a treadmill and a few hand weights, our GarageExperts® storage solutions can help organize and optimize your new fitness area. GarageExperts® will create a custom 3D rendering of your garage that includes a detailed view of your cabinet and storage solutions, as well as your floor. Our custom-built cabinets are manufactured in the USA, come with full backs, and provide the perfect solution to rid your garage of all that unwanted clutter. For added organization of your garage home gym, a slatwall system and specialized storage racks can be installed to hold all those exercise bands, hand weights, and yoga mats when they aren't in use.
Now that your amazing home gym makeover is complete, you can toss all those old excuses aside and enjoy improving your physical health in the convenience of your home.