Commercial applications require a durable layer of protection against heavy traffic, abrasion, chemicals, and moisture exposure. There are many benefits associated with resin-based coatings including aesthetics, simplified maintenance, increased light reflectivity, and a decrease in air conditioning and heating costs. It can also improve skid resistance, creating a safer environment by limiting slip and trip liabilities.
GarageExperts® has been used for years on concrete floors in commercial and industrial settings as well as a traffic-resistant decorative coating on residential garage floors. Our Garage FX® produces a long-lasting high-gloss finish with superior hardness and abrasion resistance.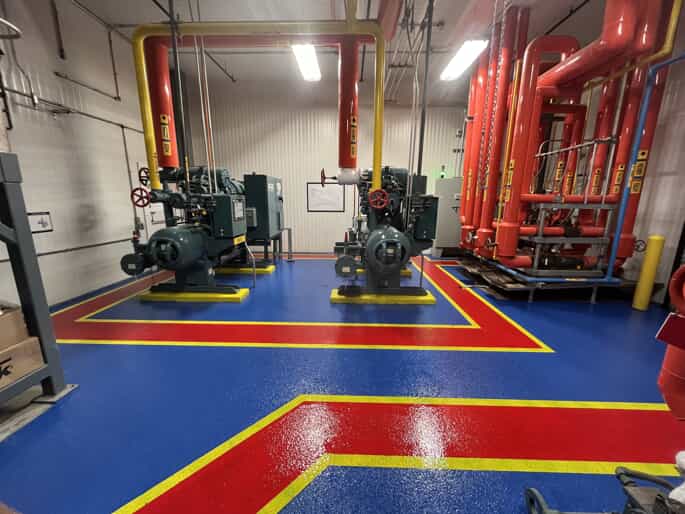 With so many coating options available, selecting the best concrete coating can be a daunting task for those not familiar with the industry. The number of choices is overwhelming, and each product will differ in terms of performance, ease of application, economy, and appearance.
Your local GarageExperts® team will make the process easy and simple. They will evaluate the substrate, but more importantly, they will communicate and discuss the things to consider when exploring commercial floor applications such as service downtime, environment, use, chemical exposure, and safety. This will ensure you are receiving the best system suitable to withstand all the harsh rigors of your environment while being fast, efficient, and conscientious of your required return to service time.
GarageExperts® products are industrial-grade and fuse deep into the concrete, providing superior adhesion that won't chip or peel. Decorative flakes or quartz can be applied as a broadcasted aggregate to increase strength, traction, abrasion, and impact resistance. Our ultra-high solids polyaspartic topcoats provide incredible stain, abrasion, wear, and chemical resistance increasing the longevity and durability of the coating. From retail to manufacturing and repair facilities, GarageExperts® will provide a solution to your flooring requirements.