When it comes to upgrading your garage, don't overlook the importance of a functional and visually appealing floor. Epoxy and polyaspartic flooring has emerged as a popular choice for homeowners seeking to transform their drab garage floors into durable, attractive, and easy-to-maintain surfaces. Below we explore the benefits of using epoxy and polyaspartic flooring in your garage and provide you with some insight into how we will transform your floor at GarageExperts® using our Garage FX® Flooring System. Our goal is to provide our customers with a stunning garage floor every time.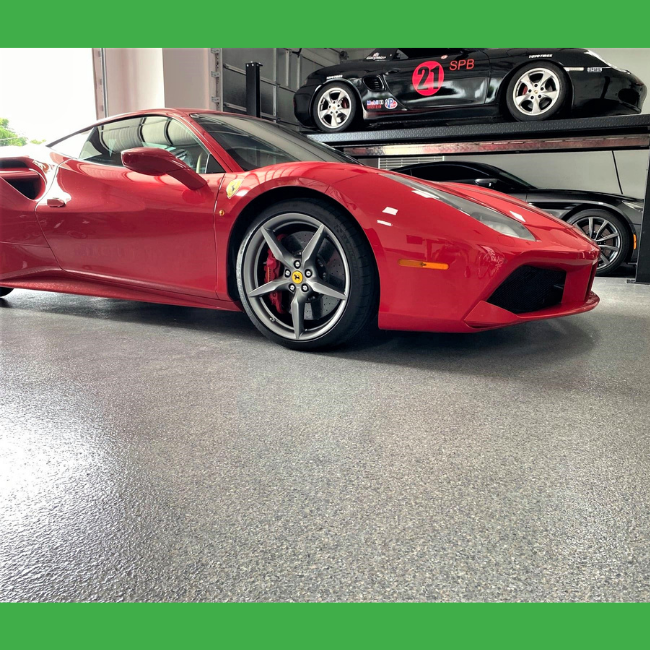 ​
The Advantages of the Garage FX® Flooring System
Durability: One of the primary reasons homeowners choose epoxy and polyaspartic flooring for their garage is its exceptional durability. Epoxy and polyaspartic floor coatings are incredibly tough and can withstand heavy foot and vehicle traffic, making them ideal for garages. They're resistant to stains, chemicals, and abrasions, ensuring your garage floor stays in tip-top shape for years. Our epoxy base coat also has a better moisture rating than other base coats being used in the industry. Moisture in your concrete can cause floor issues if not addressed at the time of the installation.
Aesthetic Appeal: Epoxy and polyaspartic flooring offer a wide range of design possibilities. You can choose from various colors and patterns, and even add decorative flakes or metallic pigments to create a customized look that complements your home's style. Whether you prefer a sleek, modern appearance or a classic, glossy finish, we can achieve it. You dream it, we can make it happen!
Easy Maintenance: Maintaining a GarageExperts® garage floor is a breeze. Its seamless surface is resistant to dust and dirt buildup, making cleaning a simple task. Regular sweeping and occasional mopping are all you need to keep your garage floor looking pristine.
Chemical Resistance: Our flooring is highly resistant to chemicals, oils, and solvents. This feature is especially useful in a garage setting where spills are common. The Garage FX® Flooring Systemforms a barrier that protects your concrete floor from damage. Wipe up any spill within 20 minutes and the surface will hold up.
Steps We Take to Install Your Great-Looking Floor
The key to a successful epoxy and polyaspartic installation is thorough preparation. We will diamond grind your floor to eliminate any oil stains, dirt, and debris, and repair any cracks or imperfections in the concrete with our custom-formulated repair products. The grind will allow the epoxy to soak into the concrete to create a bond that is stronger than concrete. The team will apply our Garage FX® epoxy and then flake the surface to ensure it is coated completely. With 140+ flake colors, you have a wide range of choices to make your space what you want it to be. Once it is dry, the team will then install the polyaspartic topcoat, giving the floor added durability and shine.
Garage FX® epoxy and polyaspartic flooring is a practical and visually appealing solution for transforming your garage floor. Its durability, customization options, and easy maintenance make it a popular choice for homeowners. Using GarageExperts® to deliver a great floor for you will be the best choice you can make. Our system has been used for 15 years over more than 40 million floors by teams all over the United States. So, why wait? We can get you in touch with a team near you today!