GarageExperts® cabinets and slatwall systems are the solutions for all your garage organization needs.
GarageExperts® cabinets are made from 100% industrial grade melamine and constructed of ¾-inch material with full backs. Our ¾-inch shelves with safety shelf pins and full extension slides are standard with all GarageExperts® cabinets. This also allows for increased weight capacity when compared to other cabinets on the market.
Our cabinets are available in five standard colors (Black, Charcoal, Cherry, Maple, and Chocolate), three economy colors (White, Almond, and Silver), and four premium colors (Twilight Linea, American Walnut, Negotiating Geneva, and Driftwood). Color selection is designed to complement your Garage FX® floor coating to complete your garage makeover.
The handles provide a bold clean look with a brush stainless steel finish, or you can upgrade to extruded aluminum handles available in black or silver for an ultra-premium appearance.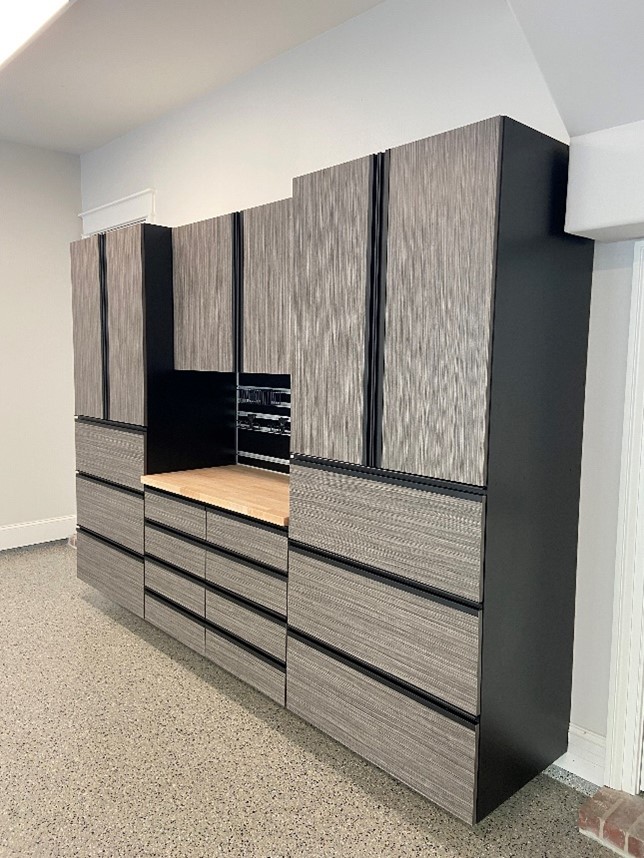 Soft close hinges and slides, 1-inch shelves, and applied ends are available upgrade options to match the functionality with the beauty of your new garage cabinets.
Slatwall storage allows you to organize and hang items to free up floor space. The slatwall can be color matched to complement the cabinets or a contrasting color can be selected. Each rail is composed of high-quality extruded aluminum providing greater weight capacity and an elegant, finished appearance. GarageExperts® has various hooks and hangers available to fit all your needs.
GarageExperts® can also provide overhead ceiling racks which are great for storing those long-term and seasonal items. They are available in a white finish and various sizes to accommodate many items.
GarageExperts® custom cabinets and storage systems will provide function and more useable space by allowing you to organize your environment. No matter what size garage you have GarageExperts® can design a cabinet storage solution tailored for your needs.