Commercial & Industrial Epoxy Flooring
Commercial Epoxy and Polyaspartic Flooring Systems in Columbus
Commercial spaces demand flooring solutions that are durable, stunning and long-lasting. GarageExperts® of Columbus proudly offers exceptional commercial epoxy and polyaspartic flooring systems that are durable, functional, and aesthetically pleasing. Let us design and install epoxy and polyaspartic flooring systems that elevate your business environment to new heights.
We Serve a Variety of Commercial Properties
Our expertise extends across various commercial spaces where we install the finest epoxy and polyaspartic floors:
Office Buildings

Gyms

Restaurants

Commercial Kitchens

Storage Facilities

Auto Dealerships

Schools

Warehouses

Showrooms

Manufacturing Facilities

Laundromats
Benefits of our Garage FX® Commercial Epoxy and Polyaspartic Flooring
Exceptional Durability: Our Garage FX®

epoxy and polyaspartic flooring systems boast exceptional durability, making them an ideal choice for commercial environments. With high resistance to impact, abrasion, chemicals, and stains, these flooring options can withstand heavy loads and harsh substances without deteriorating.
Maintenance Made Simple: The non-porous nature of our epoxy and polyaspartic flooring systems prevent dirt, dust, and liquids from penetrating the surface, making cleaning a breeze. Regular sweeping, mopping, or the occasional use of a mild cleanser is all it takes to maintain the flooring's pristine appearance, minimizing downtime for cleaning and maintenance.

Versatile Design Options: Our epoxy and polyaspartic flooring systems offer a wide range of design options, allowing businesses to customize their commercial spaces to match their branding or aesthetic preferences. From incorporating various colors and patterns, these versatile flooring solutions can transform dull floors into vibrant and eye-catching surfaces.
Enhanced Safety: Commercial epoxy and polyaspartic flooring can be further enhanced with safety features. Anti-slip additives can be incorporated into the flooring system, reducing the risk of accidents caused by wet or slippery surfaces.
Why Choose GarageExperts
®
of Columbus to Install Commercial Epoxy and Polyaspartic Flooring?
While commercial epoxy and polyaspartic flooring systems offer numerous benefits, proper installation is crucial for optimal results. Here's why it's essential to hire a professional polyaspartic and epoxy flooring company like GarageExperts® of Columbus:
Knowledge and Experience:

Our team

possesses

extensive knowledge and experience

in working with epoxy and polyaspartic flooring systems. We understand the intricacies of the installation process, ensuring a flawless application and a smooth finish. Our expertise helps us avoid common pitfalls, such as bubbles, uneven coatings, or adhesion issues.



Proper Surface Preparation: Achieving a durable and long-lasting epoxy or polyaspartic floor requires thorough surface preparation. With GarageExperts®

of Columbus, you can rest assured that we have the necessary tools and techniques to properly clean, repair, and prime the substrate, ensuring optimal adhesion and performance of the flooring system.
Time and Cost Efficiency: Choosing us for polyaspartic and epoxy floor installation saves valuable time and money. Our commercial flooring experts can complete the installation process efficiently, minimizing business disruptions.
Warranty and Maintenance Support: Our services and products are backed by limited lifetime warranties to ensure the best results and your utmost satisfaction! When you choose GarageExperts®

of Columbus for your commercial epoxy and polyaspartic flooring needs, you gain peace of mind knowing that we stand behind our work!
Contact us today by calling (740) 227-8454 to discuss your commercial epoxy and polyaspartic flooring needs or schedule a consultation online!
Here Are Four Reasons Why You Should Choose Our Epoxy and Polyaspartic Flooring:
One-Day Installation

In many cases, our most popular epoxy and polyaspartic floor coating can be installed, and your garage returned to normal, in as little as one day. We can even transform your basement, pool deck, patio, or any other concrete floor.

Crack & Joint Repair

If your floor currently has cracks or other surface imperfections, our Garage FX® epoxy repair product is specially designed to treat cracks and joints. The key to a long-lasting epoxy and polyaspartic garage floor coating is proper preparation to ensure it lasts a lifetime.

Maintenance-Free

Garage floors need to be durable and withstand many hazards, from car wheels to lawn equipment to various chemicals. Our epoxy and polyaspartic flooring products are clear, abrasion-resistant, and easy to clean. They don't require waxing or other time-consuming upkeep and always remain aesthetically pleasing.

No Peeling Or Chipping

Our floor coating offers three times more adhesion than other epoxy and polyaspartic coatings, meaning you'll never have to worry about them peeling or chipping.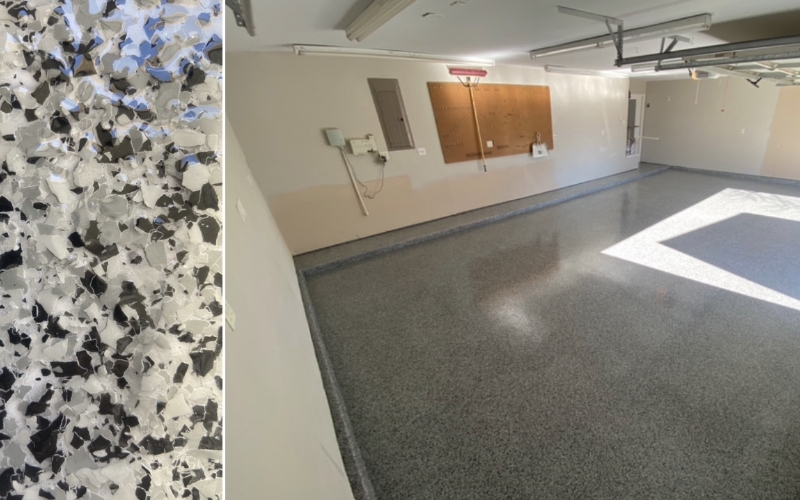 "

They did an exceptional job!

"

Janet E.

"

Very happy customers with appearance.

"

Bart B.

"

My garage is the absolute man cave now.

"

Jason R
American Made

Stronger Than
Concrete

No Peeling, Chipping, Or Staining

Resistant to Abrasions, Chemicals, and UV Rays

Over 140 Colors to Choose From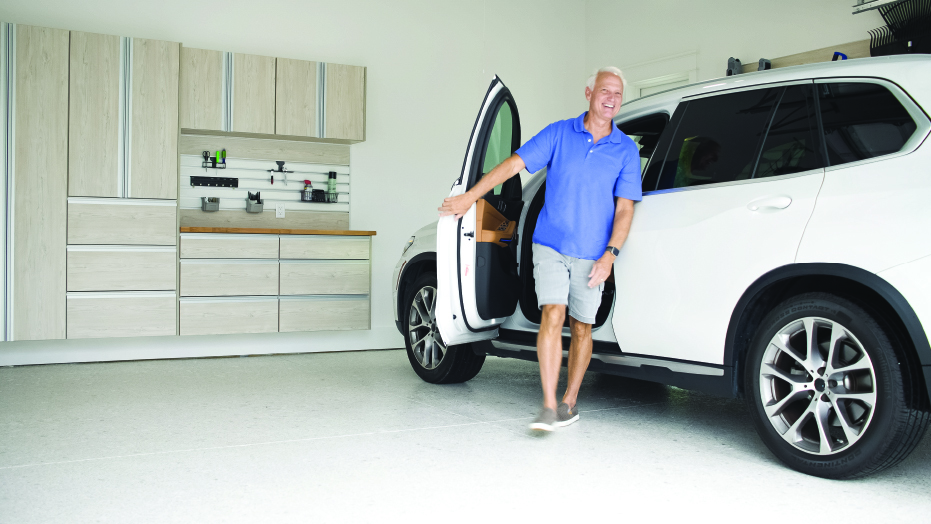 Committed To You
We believe in providing the highest
standard of service
In-Home Estimate Is Always Free

Time Is Valuable So We Arrive On Time

Always Get Upfront Pricing

Products Are Guaranteed For Life
Step 1

First, we prepare your concrete by grinding the surface and repairing any cracks, joints, or surface imperfections with our Garage FX® repair products.

Step 2

We roll out our Garage FX® epoxy primer that fuses directly into concrete to create an incredible bond that won't peel.

Step 3

We broadcast your choice of decorative flakes across the floor making sure to evenly cover the entire space for a seamless finish.

Step 4

Lastly, we apply our highly durable and abrasion-resistant polyaspartic topcoat to protect the floor from wear and tear, while maintaining an attractive, glossy finish for years to come.

Step 5

Now that GarageExperts® has extended the life of your floor and enhanced the look of your space, enjoy it!