Residential Epoxy Flooring
Residential Epoxy & Polyaspartic Garage Floor Coatings In Columbus
Providing Garage Flooring That You Can Trust
If you're like most homeowners, you've probably used your garage for everything from storage or workspace to parking your car. However, despite being one of the most used spaces in your home, it can also easily become neglected. That's where GarageExperts® of Columbus comes in. Our Garage FX® epoxy and polyaspartic garage floor coatings can help turn your garage into an attractive and highly functional space.
Our floor coatings come in many different styles, allowing you to select something that meets your specific needs. Plus, with its deep infusion into concrete, Garage FX® epoxy and polyaspartic flooring offer excellent protection, making it perfect for even the harshest environments. So why leave your garage as an afterthought? Give it a fresh new look and make it a space in your home that you truly enjoy using.
The Perfect Fit for Your Columbus Home
If you're like many of us, your garage is more than just a place to park your car. It's a refuge from the chaos of daily life where you can tinker with tools and store your favorite toys. So why not make it functional, practical, and beautiful?
With over 140 colors and finishes of our Garage FX® epoxy and polyaspartic flooring, you can create a customized space that perfectly matches your unique style. Whether you're going for a classic look or something more modern, Garage FX® flooring is the perfect investment to make your garage as beautiful and functional as your home.
Why Invest In Garage FX® Flooring
Garage FX® epoxy and polyaspartic flooring is more than just a floor coating. It's a high-performance, long-lasting solution that enhances the overall appeal of your home while providing a multitude of benefits. Here's why it stands out:
Unmatched Durability: Garage FX® flooring is designed to endure. It resists chipping, scratching, and peeling, ensuring it remains in top-notch condition even under harsh conditions. Its durability makes it an excellent choice for homeowners seeking a long-lasting flooring solution.
UV and Stain Resistance: Sunlight and accidental spills are no match for our Garage FX® epoxy and polyaspartic flooring. Thanks to its UV resistance, the floor maintains its vibrant color even after prolonged sun exposure. Furthermore, its stain resistance ensures any spills can be cleaned up easily, leaving no lasting marks.
Effortless Maintenance: As a busy homeowner, you need a flooring system that doesn't demand constant attention. Garage FX® flooring is incredibly easy to maintain – a quick sweep or mop is all it takes to restore its shine. This ease of maintenance saves you time and effort, making your life simpler.
Aesthetic Appeal: Garage FX® epoxy and polyaspartic flooring isn't just functional; it's visually appealing too. With its polished finish, it adds a touch of sophistication to your home, enhancing its aesthetic appeal. Whether you're revamping your garage or basement, this flooring system complements any decor style.

Why settle for less when you can have the best? Discover the difference our epoxy and polyaspartic garage floor coatings can make. Call (740) 227-8454 or request an estimate online.
Partner With GarageExperts® of Columbus
Your garage floor might not be the first thing that comes to your mind when you think about home aesthetics, but it's a significant aspect that contributes to both the functionality and visual appeal of your home. Whether your garage floor is cracked or just plain unsightly, you may need an upgrade. Our Garage FX® epoxy and polyaspartic flooring solutions don't just elevate your garage's aesthetic appeal, they also promise durability, resistance to wear and tear, and ease of maintenance.
Here's why partnering with our team is beneficial:
Punctuality: We respect your time and ensure our team is always on schedule, and ready to take on the task at hand.
Transparent Pricing: We provide a complimentary in-home estimate and upfront pricing, enabling you to make a budget-conscious and informed decision.
Efficient Installation: Some of our flooring options come with the advantage of one-day installation, making your garage transformation swift and hassle-free.
Place your trust in our seasoned professionals who are committed to delivering a personalized solution that caters to your specific needs. Don't compromise on quality – let GarageExperts® of Columbus handle your garage flooring needs.

Ready for a garage floor that can resist stains, chemicals, and everyday wear and tear? Our epoxy and polyaspartic floor coatings are just a click away! Get your free estimate today or call (740) 227-8454.
Here Are Four Reasons Why You Should Choose Our Epoxy and Polyaspartic Flooring:
One-Day Installation

In many cases, our most popular epoxy and polyaspartic floor coating can be installed, and your garage returned to normal, in as little as one day. We can even transform your basement, pool deck, patio, or any other concrete floor.

Crack & Joint Repair

If your floor currently has cracks or other surface imperfections, our Garage FX® epoxy repair product is specially designed to treat cracks and joints. The key to a long-lasting epoxy and polyaspartic garage floor coating is proper preparation to ensure it lasts a lifetime.

Maintenance-Free

Garage floors need to be durable and withstand many hazards, from car wheels to lawn equipment to various chemicals. Our epoxy and polyaspartic flooring products are clear, abrasion-resistant, and easy to clean. They don't require waxing or other time-consuming upkeep and always remain aesthetically pleasing.

No Peeling Or Chipping

Our floor coating offers three times more adhesion than other epoxy and polyaspartic coatings, meaning you'll never have to worry about them peeling or chipping.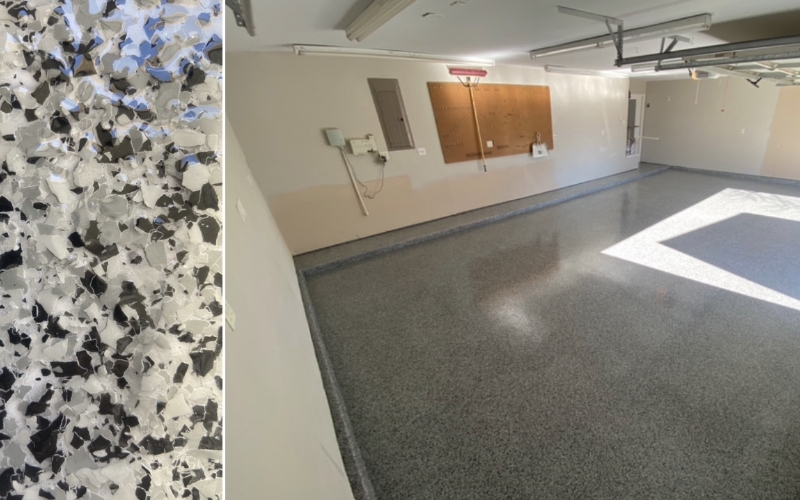 "

"Mike and his team will make sure you get the most use out of your garage. Give them a call to see what they can do."

"

John K.

"

"Great quality and customer service. Would recommend them to anyone."

"

Austin W

"

"Very organized and professional "

"

William D
What Makes Garage FX® Epoxy & Polyaspartic
Technology Superior For Your Garage
American Made

Stronger Than
Concrete

No Peeling, Chipping, Or Staining

Resistant to Abrasions, Chemicals, and UV Rays

Over 140 Colors to Choose From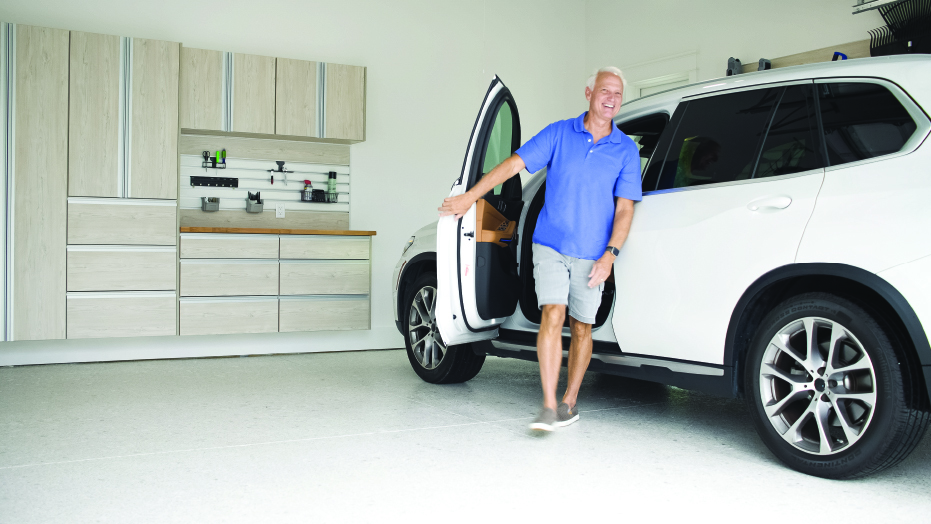 Committed To You
We believe in providing the highest
standard of service
In-Home Estimate Is Always Free

Time Is Valuable So We Arrive On Time

Always Get Upfront Pricing

Products Are Guaranteed For Life
Step 1

First, we prepare your concrete by grinding the surface and repairing any cracks, joints, or surface imperfections with our Garage FX® repair products.

Step 2

We roll out our Garage FX® epoxy primer that fuses directly into concrete to create an incredible bond that won't peel.

Step 3

We broadcast your choice of decorative flakes across the floor making sure to evenly cover the entire space for a seamless finish.

Step 4

Lastly, we apply our highly durable and abrasion-resistant polyaspartic topcoat to protect the floor from wear and tear, while maintaining an attractive, glossy finish for years to come.

Step 5

Now that GarageExperts® has extended the life of your floor and enhanced the look of your space, enjoy it!