Garage Cabinets
Garage Cabinets in Columbus
More Organization, Less Chaos
Are you tired of dealing with the constant mess in your garage? Let GarageExperts® of Columbus help you take back control! Our purpose-built garage cabinets are designed to make organizing your garage easier than ever. With a selection of personalized cabinets, slatwall organization systems, shelving, and much more, we have something for every homeowner's needs. Plus, our cabinets come with a lifetime warranty so you can count on an orderly and functional garage for years down the road.
Say goodbye to disarray and bring order to your garage with tailored garage storage solutions. Reclaim your space and enjoy the satisfaction of having a neat and tidy garage that will make your neighbors green with envy. With garage cabinets from GarageExperts® you can create the ultimate organized environment—one you'll love returning to time and again. Stop letting clutter rule your life and start enjoying the freedom that comes from having a well-maintained storage area. Contact us today to get started on making all of your garage dreams come true!
Are you ready to turn your garage into a well-organized and efficient space? Contact GarageExperts® of Columbus today at (740) 227-8454 or online for a free on-site estimate.
American-Made Custom Garage Cabinets Built to Last
At GarageExperts® of Columbus, we specialize in providing high-quality, American-made custom garage cabinets crafted for maximum strength and durability. Our cabinets are designed to withstand the rigors of storing heavy tools, equipment, and other items without compromising structural integrity. With walls featuring full backs and ¾-inch shelves, our cabinets stand the test of time.
We understand that every garage storage system is unique, which is why we offer a wide range of custom cabinet options to choose from. You can hand-pick the ideal combination of cabinets, shelving, and accessories to create a one-of-a-kind garage storage solution that meets your specific needs. Our team of experts will work with you closely throughout the process to ensure you get exactly what you're looking for.
Ready to take the first step towards making your dream of an organized garage a reality? Contact us today at (740) 227-8454 or reach out to us online.
Benefits of GarageExperts® Cabinets:
Adjustable Shelves – Our ¾-inch adjustable shelves can withstand heavy loads and will save you space.
Shelf Safety Lock – Your shelves will remain secure with our standard safety lock.
Easy to Clean – Our shelves have full, white melamine interiors that are easy to wipe clean.
Full Extension Drawer Slides – Never reach far back into a drawer again with full extension drawer slides.
Standard Pulls – Our door and drawer pulls are brushed-finished, durable, and clean-looking.
Optional Channel Pulls – Enhance the look of your cabinets with our optional channel pulls, available in black and silver finishes.
European Style Door Hinges – These concealed hinges provide a cleaner and more sophisticated look and are available in a slow closing option.
Full Backs – All of our cabinets have full backs for added durability.
Applied Ends – These ends are attached to the end of a run of cabinets to give them a more finished, European look.
At GarageExperts® of Columbus, we recognize that each garage has unique storage needs. That's why we provide an extensive range of garage cabinet options, ensuring you'll discover precisely what you're looking for. Whether you require pantry cabinets for organizing supplies, overhead cabinets to maximize space, or base cabinets for tool and equipment organization, we have the ideal solution for you.
If the array of choices feels overwhelming, don't worry! Our team of garage flooring and storage experts will walk you through the entire process. We'll assist you in selecting the right cabinets and designing a layout that perfectly fits your space. Taking into account factors like available area, storage requirements, and even your personal style preferences, our primary goal is to create a custom cabinet and storage system that seamlessly integrates functionality and style. This will not only optimize your storage space but also enhance the overall appearance of your garage.
Our skilled team is fully equipped to transform garages of any size. Whether you have a small and cluttered space or a large area in need of organization, we'll install the garage cabinets you need to elevate your storage capabilities to a whole new level. Get ready to transform your garage into a functional and stylish space that will bring you joy for many years to come.
Contact us now at (740) 227-8454 or conveniently schedule your free on-site estimate appointment online. Take the first step towards creating your dream garage today!
Here Are Four Reasons Why You Should Choose Our Epoxy and Polyaspartic Flooring:
One-Day Installation

In many cases, our most popular epoxy and polyaspartic floor coating can be installed, and your garage returned to normal, in as little as one day. We can even transform your basement, pool deck, patio, or any other concrete floor.

Crack & Joint Repair

If your floor currently has cracks or other surface imperfections, our Garage FX® epoxy repair product is specially designed to treat cracks and joints. The key to a long-lasting epoxy and polyaspartic garage floor coating is proper preparation to ensure it lasts a lifetime.

Maintenance-Free

Garage floors need to be durable and withstand many hazards, from car wheels to lawn equipment to various chemicals. Our epoxy and polyaspartic flooring products are clear, abrasion-resistant, and easy to clean. They don't require waxing or other time-consuming upkeep and always remain aesthetically pleasing.

No Peeling Or Chipping

Our floor coating offers three times more adhesion than other epoxy and polyaspartic coatings, meaning you'll never have to worry about them peeling or chipping.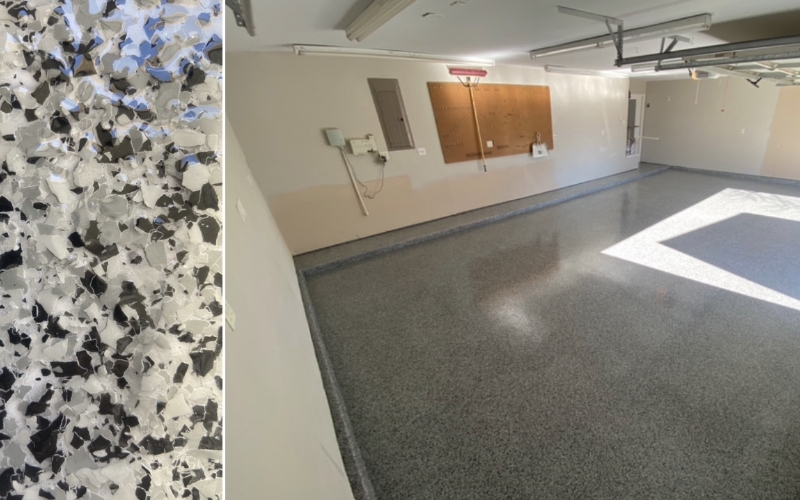 "

"Excellent Work, great to work with!"

"

Natasha M.

"

I can't wait to send them other customers!!

"

Tommy A

"

We love the appearance and definitely recommend this provider.

"

Dennis J.
American Made

Stronger Than
Concrete

No Peeling, Chipping, Or Staining

Resistant to Abrasions, Chemicals, and UV Rays

Over 140 Colors to Choose From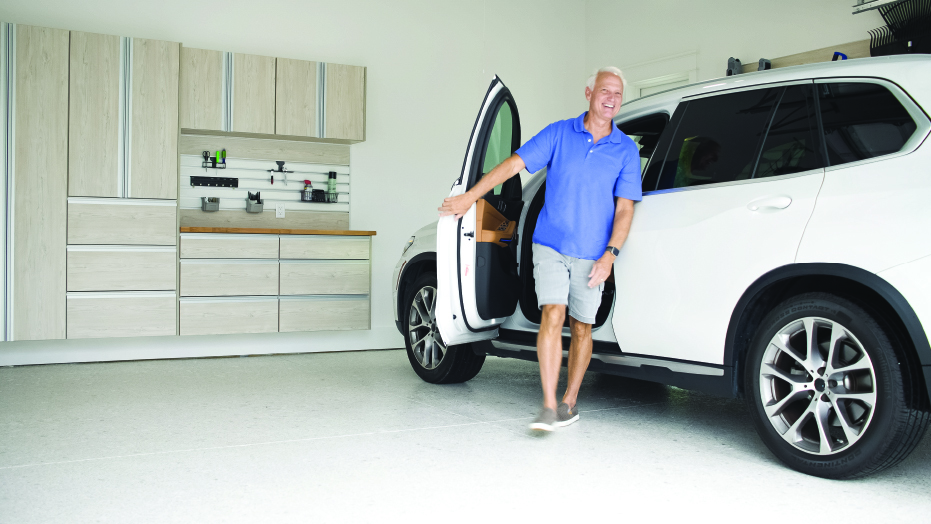 Committed To You
We believe in providing the highest
standard of service
In-Home Estimate Is Always Free

Time Is Valuable So We Arrive On Time

Always Get Upfront Pricing

Products Are Guaranteed For Life
Step 1

First, we prepare your concrete by grinding the surface and repairing any cracks, joints, or surface imperfections with our Garage FX® repair products.

Step 2

We roll out our Garage FX® epoxy primer that fuses directly into concrete to create an incredible bond that won't peel.

Step 3

We broadcast your choice of decorative flakes across the floor making sure to evenly cover the entire space for a seamless finish.

Step 4

Lastly, we apply our highly durable and abrasion-resistant polyaspartic topcoat to protect the floor from wear and tear, while maintaining an attractive, glossy finish for years to come.

Step 5

Now that GarageExperts® has extended the life of your floor and enhanced the look of your space, enjoy it!