Industrial flooring is critical to the functionality of your building. For many businesses, the floor is the first impression your customers get when they walk in, but the importance of industrial flooring goes beyond just aesthetics. The benefits of a great floor coating greatly impact the functionality of the floor such as traction, directional and traffic lines, and improved light reflectivity to increase safety. Also, the easy cleanability and overall durability reduce the need for replacement and labor costs.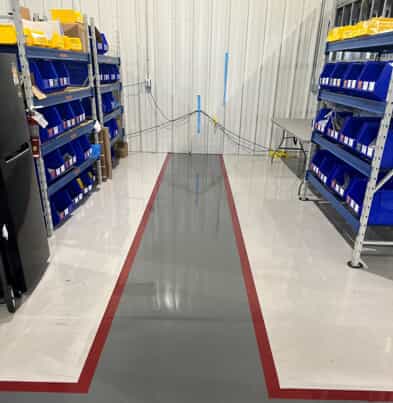 A specialty machine shop producing industrial compressors and check valves found themselves researching durable flooring options that featured low maintenance and easy cleanability for their brand-new facility. The high-traffic industrial environment would receive constant abuse from forklift traffic, industrial chemicals, personnel, and a variety of tooling.
GarageExperts® of Baton Rouge to the rescue! The GarageExperts® team showed up for an onsite estimate to evaluate the environment and condition of the substrate while assessing the client's needs in the facility. GarageExperts® of Baton Rouge recommended a high-build Garage FX® flooring system to withstand the harsh rigors of the environment and to provide optimal durability and wearability. 
The team began profiling the 17,000 sq ft surface with concrete diamond grinders to provide the correct surface profile, repaired any visible cracks, and cleaned the surface in preparation for the coating application. Garage FX® 104 Moisture Blocking Primer was applied to mitigate any potential moisture issues beneath the slab as well as provide a tenacious bond to the concrete substrate through its proprietary fusion technology. Secondly, Garage FX® 101 was used as a high-build body coat to provide a thicker more durable coating. Finally, Garage FX® 205 Ultra High Solids Polyaspartic Topcoat pigmented in Whisper Grey was applied to the surface, delivering superior abrasion, chemical, and UV resistance in a high gloss finish. The GarageExperts® of Baton Rouge team did a phenomenal job and the results speak for themselves. The owner of the specialty machine shop was so impressed with GarageExperts® of Baton Rouge and their work that he called them back to install 2,400 sq ft of Charcoal colored pathways outlined in 800 linear feet of custom red striping to match the businesses colors.
Let GarageExperts® change your business with new floors. We can customize our coatings to fit most brand standards and color schemes, while also being compliant with worker safety regulations.