$250 off a Garage Makeover!
This Holiday Season, Give the Gift that Keeps on Giving with $250 off a Garage Makeover!
It's the most wonderful time of the year! This holiday season, give the gift that keeps on giving with $250 off a garage makeover from your local GarageExperts®. Beginning November 1st through December 31st, customers will receive $250 off a garage makeover that includes a Garage FX® Flooring installation and a customized cabinet solution. Combining our Garage FX® premium epoxy and polyaspartic floor coatings with industrial strength cabinets, your local GarageExperts® can make your dream garage a reality! The best part? Our products are backed by a lifetime warranty!
What makes our Garage FX® Flooring different than other floor coating products? From residential to industrial garages, our Garage FX® epoxy and polyaspartic flooring is designed for your area and needs. GarageExperts® epoxy floor coatings fuse deep into the concrete to create a bond that is three times stronger than the competition, resisting unwanted peeling or cracking. Our premium coatings can be applied to almost any concrete floor, interior or exterior, and are built to withstand the toughest conditions and environments. With over 140 color options to choose from, we are confident that we have a color that fits your style and needs.
Need space in your garage for all your holiday decorations? GarageExperts® can help! Your local GarageExperts® will work closely with you from the initial free on-site estimate to understand your needs and customize a solution that fits your space. With twelve cabinet colors available and multiple configurations. We are so confident that we can customize an organizational solution that fits your style.
*This promotion is only valid at participating locations within the period of November 1st, 2022, to December 31st, 2022.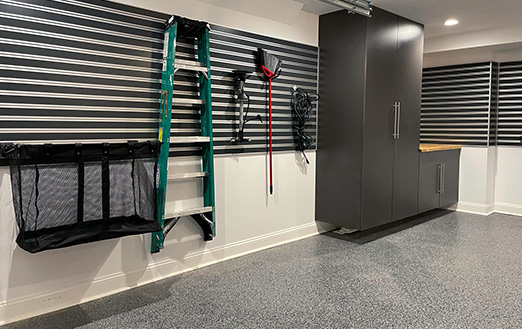 About Our Garage Makeover
Our epoxy garage flooring and concrete floor coating systems come in a wide range of styles to meet the tastes and needs of our customers. Built on a foundation of strength that starts with our proprietary formula that fuses deep into the concrete floor, most of the epoxy garage floor coatings we offer can be installed in as little as a day.
One Day Installation
Maintenance Free
No Peeling or Flaking