Spring Cleaning with GarageExperts®! Save $100 off Garage FX® Flooring!
Spring Cleaning with GarageExperts®!
Save $100 off Garage FX® Flooring!
Tired of your dirty and dingy garage? GarageExperts® can help! Spring is right around the corner and what a great time to get a head start on spring cleaning, starting with your garage. Beginning March 1st through April 30th, customers will receive $100 off our Garage FX® Flooring and get the flooring makeover your garage deserves!
What makes Garage FX® Flooring so unique? GarageExperts® is the only company to offer our proprietary Garage FX® epoxy and polyaspartic flooring products that won't peel, chip, or fade. Our proprietary fusing technology allows our Garage FX® Epoxy to create excellent adhesion to the concrete. With adhesion up to three times stronger than competitors' products, you will not have to worry about the floor peeling or chipping over time. Our premium coatings can be applied to just about any concrete floor, interior or exterior, and are built to withstand the toughest conditions and environments. With over 140 color options, we are confident that we have a color that fits your style. Learn more about our products and how to get started by clicking the button below!
Take your garage makeover to the next level by designing your own cabinet system to help get your garage organized how you want! GarageExperts® has various designs that will resolve your storage needs. Make your garage your own by selecting from over eight colors and styles to customize to your style. With adjustable shelves and slatwall accessories, you can update your storage configuration, so it meets your changing organizational needs. Backed by a lifetime warranty, our storage solutions are just what you need to makeover your garage into a more efficient and practical space.
* This promotion is only valid at participating locations within the period of March 1st, 2023 to April 30th, 2023.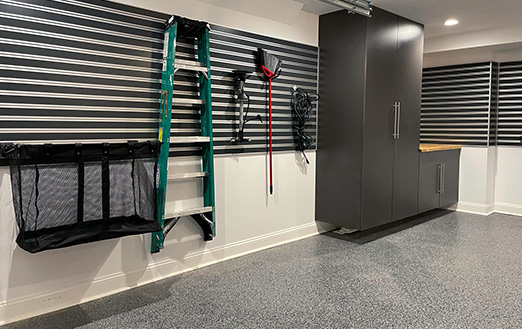 About Our Garage Makeover
Our epoxy garage flooring and concrete floor coating systems come in a wide range of styles to meet the tastes and needs of our customers. Built on a foundation of strength that starts with our proprietary formula that fuses deep into the concrete floor, most of the epoxy garage floor coatings we offer can be installed in as little as a day.
One Day Installation
Maintenance Free
No Peeling or Chipping