Transform Your Garage This Fall with $250 off a Garage Makeover!
Transform Your Garage This Fall with $250 off a Garage Makeover!
Fall will be here before you know it and what better way to start the season than with a garage makeover from GarageExperts®! Beginning September 1 through October 31, customers will receive $250 off a garage makeover. With our Garage FX® Flooring and custom cabinets, GarageExperts® can give your garage the transformation you have always wanted! The best part? It's backed by a lifetime warranty!
What makes Garage FX® Flooring so unique? With our proprietary fusing technology, Garage FX® Flooring creates an adhesion up to three times stronger than competitors' products, so you do not have to worry about the floor peeling or chipping over time. With over 40 million square feet of Garage FX® Flooring applied in residential and commercial properties throughout the United States, GarageExperts® is ready to extend the life of your garage floor. Designed for just about any interior and exterior concrete floor, our industrial-strength epoxy and polyaspartic floor coatings are bright, durable, and easy to clean. We have over a decade of experience, offer an extensive variety of color options, and provide one-day installations. Request a free on-site estimate to learn more about how we can transform your garage.
Take your garage makeover to the next level by designing your own cabinets! GarageExperts® has various designs that will solve your storage needs. Make your garage fit your style by selecting from over twelve colors and a variety of styles. With adjustable shelves and slatwall accessories, you can update your storage configuration, so it meets your changing organizational needs.
* This promotion is only valid at participating locations from September 1 to October 31, 2023.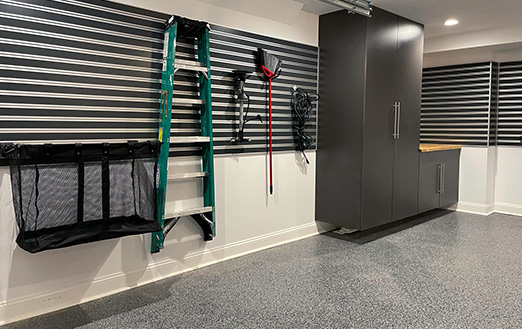 About Our Garage Makeover
Our epoxy garage flooring and concrete floor coating systems come in a wide range of styles to meet the tastes and needs of our customers. Built on a foundation of strength that starts with our proprietary formula that fuses deep into the concrete floor, most of the epoxy garage floor coatings we offer can be installed in as little as a day.
One Day Installation
Maintenance Free
No Peeling or Chipping