Jim and Deb Nickless came into the GarageExperts® franchise system in 2018. Having a floor cleaning and restoration business they realized the exponential growth in the garage coating sector. They began by attending the GarageExperts® training where they learned firsthand how to evaluate, install and sell these systems as well as how to run their business efficiently and profitably. After training was completed, they returned to Evansville, Indiana excited and ready to hit the ground running.  
Fast forward five years, GarageExperts® of Evansville just completed its largest project, a 26,000 square foot RV Service Facility. A project of this magnitude can be intimidating; however, training, experience, and continual technical support prepared them for this daunting task.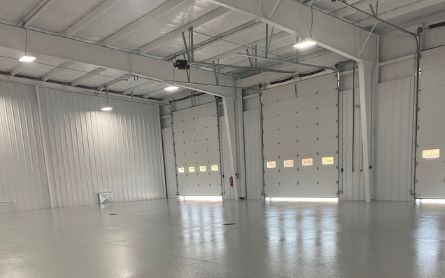 This industrial facility needed a durable flooring option that would withstand the harsh rigors of daily use, as well as be safe for employees and easy to maintain. GarageExperts® of Evansville evaluated the slab condition, environment, and floor use. The Garage FX® system was determined to be the best solution for the floor, providing a beautiful, functional, and incredibly durable surface.
The floor was profiled using planetary diamond grinders to remove surface contaminants and laitance before applying the FX-102 Direct-to-Concrete Epoxy. FX-102 creates a strong foundation with its proprietary fusion technology that provides a tenacious bond to the substrate. Coastal Blue 1/4-inch Blended Flake was broadcasted to rejection across the surface for a consistent texture, promoting anti-slip properties. FX-205 Ultra-High Solids Polyaspartic was applied to the prepared flake surface for optimal durability in a glossy finish that increases light reflectivity for a brighter space. The Garage FX® system features superior abrasion, chemical, and wear resistance providing this RV Service Facility with a performance floor ready to withstand heavy use and abuse.