Dumfries
Dumfries Garage Floor Coatings and Storage Solutions
Assisting Residential Customers
Having an unorganized and cluttered garage can be a huge inconvenience. Not only does it make it difficult to find the items you need, but it also makes working on projects or cleaning up much more time-consuming. Additionally, an untidy garage often looks unpleasant and can be hazardous if tools are not stored properly or securely.
Fortunately, by investing in durable floor coating and storage solutions from GarageExperts® of Prince William, you can create a safe and clutter-free space that will last for years! We specialize in helping people reclaim their garages and turn them into functional, stylish spaces. If you're tired of staring at cracked concrete and shuffling through boxes just to find the tool you need, our products can provide the solutions you need.
The Benefits of Garage FX® Floor Coatings
Epoxy and polyaspartic garage floor coatings offer numerous advantages that make them an ideal choice for any residential space in Dumfries. Our proprietary Garage FX® flooring provides all of the benefits of epoxy and polyaspartic floor coatings in one comprehensive solution.
With a Garage FX® floor coating, you can enjoy:
Durability: Our quality floor coatings are designed to withstand heavy foot traffic, along with scratches and abrasions from wheeled equipment. Additionally, they're highly resistant to chemicals, oils, and other spills that may occur in the garage.
Easy Maintenance: Garage FX® floor coatings are easy to clean and require minimal maintenance. All you need is a damp mop and some mild cleaning solution to keep your floors looking great!
Strong Bond: Our floor coatings use fusing technology to fuse deep into the existing concrete surface, eliminating chipping and peeling.
Increased Safety: A non-slip coating can be added to our floor coatings for additional traction, reducing the risk of dangerous slips and falls.
Enhanced Value: High-quality garage floor coatings can add value to your Dumfries home by making it more functional and visually appealing.
Our garage floor coating experts can install your new Garage FX® coating in just one day, so you'll only have to wait an additional 12-48 hours for the surface to dry completely depending on the local climate. Plus, we provide a lifetime warranty on our garage flooring and cabinets, so you can rest assured that any issues will be taken care of.
Your Trusted Garage Storage Partner
Having enough storage space in your Dumfries garage is essential for keeping it organized and clutter-free. Cabinets, shelves, wall-mounted racks, and other storage solutions can help you make the most of your available space while also providing a safe place to store tools, equipment, and holiday decorations.
GarageExperts® of Prince William has a wide array of American-made garage storage solutions available to help improve the appearance of your garage and increase its functionality by making it easier to find items when they are needed. From our custom-built cabinets to our adjustable slatwall systems, our products can help you organize anything from golf clubs to garden hoses.
Get your free estimate today to start creating the garage of your dreams!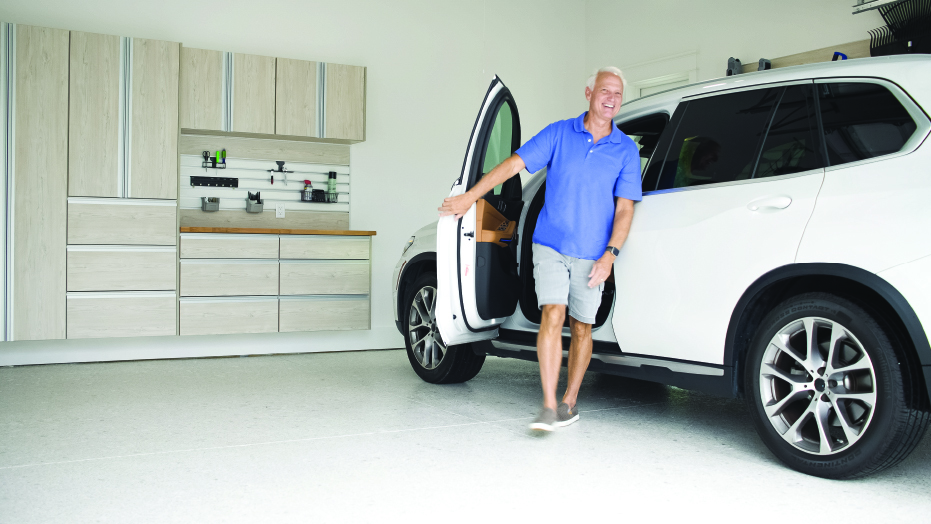 Committed To You
We believe in providing the highest
standard of service
In-Home Estimate Is Always Free

Time Is Valuable So We Arrive On Time

Always Get Upfront Pricing

Products Are Guaranteed For Life