Garage Cabinets
Garage Cabinets in Palm City
Organize Your Garage with Custom Cabinets & More
Whether you're searching for paint for a quick touch-up, the Christmas decorations, or other tools for a project, finding them shouldn't be a challenge. To help you organize your garage and give everything a home, GarageExperts® of the Treasure Coast is here!
With our custom cabinet services in Palm City, you can keep your tools and supplies in order. Our experts will work closely with you to uncover your goals and design the perfect solution for you. Custom-built cabinets can efficiently store your items and achieve the look you've always wanted!
Palm City garage cabinets are made simple with GarageExperts® of the Treasure Coast – request your free estimate now!
Which Garage Cabinets Are Best for My Garage?
Every garage is unique, with its own layout, size, and storage needs. Customizing your garage cabinets ensures they are tailored to your specific requirements, providing an efficient and practical storage solution.
To further enhance your garage storage, consider some of these popular upgrades and additions to your cabinets that we offer:
Custom Hardware – From cabinet pulls to locks and hinges, we can customize the hardware to match your style.
Pullout Shelves – Perfect for items like paint tins or small tools that commonly get lost in traditional cabinets.
Countertops – Surface areas can be added to the top of your garage cabinets to create more workspace for any project.
Of course, this is just the beginning of how we can customize your garage cabinets using our expansive on-hand inventory, countless colors and styles, and expert installation team. View our recent project gallery to see some of our past work and get inspired!
Durable Cabinets Backed by a Lifetime Warranty
We only use the highest quality, durable materials to ensure you get the most out of your cabinets. This means no warping, cracking, or fading! We're so confident in our workmanship that we back things with a lifetime warranty!
Get a Free Estimate for Your Upgraded Garage Storage
Whether you manage a local business or live in one of the many neighborhoods of Palm City, GarageExperts® of the Treasure Coast is here to find a storage solution that'll work for you – don't let disorganization hold you back any longer! Reach out to us today for your free estimate and see what's possible.
Let our team handle your garage remodel in Palm City – call us at (772) 222-6280 or submit a contact form to get started!
Here Are Four Reasons Why You Should Choose Our Epoxy and Polyaspartic Flooring:
One-Day Installation

In many cases, our most popular epoxy and polyaspartic floor coating can be installed, and your garage returned to normal, in as little as one day. We can even transform your basement, pool deck, patio, or any other concrete floor.

Crack & Joint Repair

If your floor currently has cracks or other surface imperfections, our Garage FX® epoxy repair product is specially designed to treat cracks and joints. The key to a long-lasting epoxy and polyaspartic garage floor coating is proper preparation to ensure it lasts a lifetime.

Maintenance-Free

Garage floors need to be durable and withstand many hazards, from car wheels to lawn equipment to various chemicals. Our epoxy and polyaspartic flooring products are clear, abrasion-resistant, and easy to clean. They don't require waxing or other time-consuming upkeep and always remain aesthetically pleasing.

No Peeling Or Chipping

Our floor coating offers three times more adhesion than other epoxy and polyaspartic coatings, meaning you'll never have to worry about them peeling or chipping.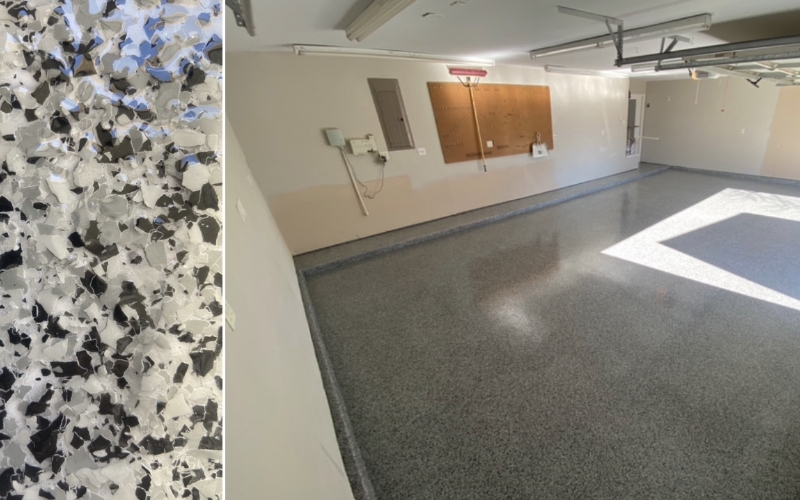 "

I just had to tell you that our garage looks fabulous!

"

Pamela S.

"

Professionalism, timing, product quality, and ease were TOP NOTCH!

"

Tom K.

"

I wish I could give them 10 stars!

"

Stacy D.
American Made

Stronger Than
Concrete

No Peeling, Chipping, Or Staining

Resistant to Abrasions, Chemicals, and UV Rays

Over 140 Colors to Choose From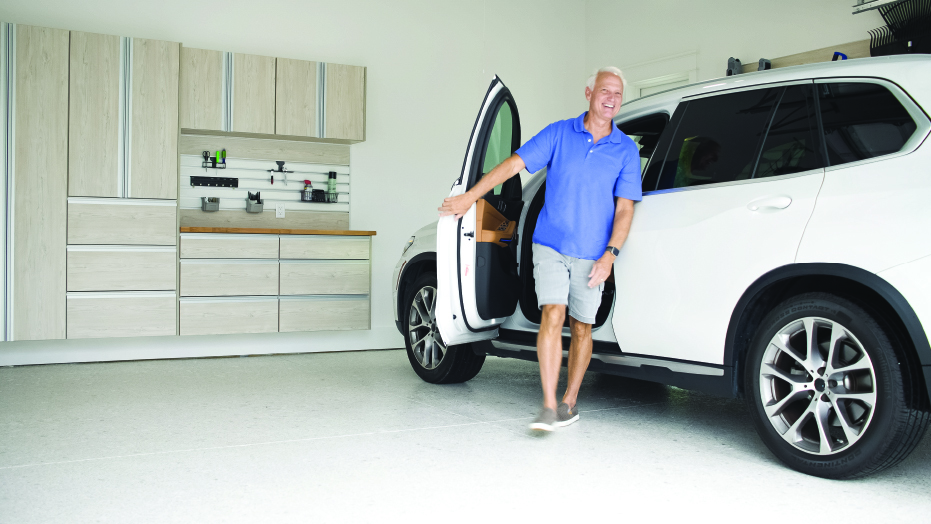 Committed To You
We believe in providing the highest
standard of service
In-Home Estimate Is Always Free

Time Is Valuable So We Arrive On Time

Always Get Upfront Pricing

Products Are Guaranteed For Life
Step 1

First, we prepare your concrete by grinding the surface and repairing any cracks, joints, or surface imperfections with our Garage FX® repair products.

Step 2

We roll out our Garage FX® epoxy primer that fuses directly into concrete to create an incredible bond that won't peel.

Step 3

We broadcast your choice of decorative flakes across the floor making sure to evenly cover the entire space for a seamless finish.

Step 4

Lastly, we apply our highly durable and abrasion-resistant polyaspartic topcoat to protect the floor from wear and tear, while maintaining an attractive, glossy finish for years to come.

Step 5

Now that GarageExperts® has extended the life of your floor and enhanced the look of your space, enjoy it!