Meet Vince and Nick
Meet the Owner of GarageExperts® The Treasure Coast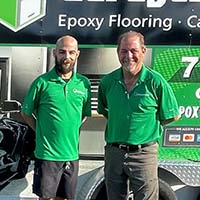 Vince & Nick Bryant are passionate about several different aspects when it comes to running a business and providing best in class customer service. With over 55 years combined background in sales and service, both Vince and Nick understand that excellent service is typically the deciding factor the consumer makes in choosing where to spend their hard-earned dollar.
Prior to being a Garage Expert Franchise Owner, Nick spent nearly 20 years managing big box home improvement retail stores. During his successful career in retail, he learned the value in offering excellent service while providing quality products for his customers. Nick is well known in his community for volunteering time and service during hurricane relief efforts, working closely with local Boys and Girls Clubs, and also with several other non-profit organizations. Nick is the oldest of 3 siblings, and lives locally in Stuart, FL with his Fiancé, Melissa. He is also a dog dad to 2 great pups, Laila & Rue.
Prior to joining the GarageExperts® Team, Vince enjoyed nearly four decades in the home furnishings industry. As a second-generation furniture retailer, Vince began his career as warehouseman rising to executive level management, specializing in sales and marketing. Throughout his professional career, Vince was considered a leader in the industry earning the respect of his peers and as a mentor to several associates. Vince is extremely passionate when it comes to offering the consumer a top of the line product while also being cognizant about value and quality. Vince and his wife Donna, are proud parents of three children, their spouses and one grandchild.
Vince and Nick are determined to meet and exceed all of your expectations for your garage makeover and will not rest until you are 100% satisfied with the results. We both look forward to working with you in the future. Thank you!