Residential Epoxy Flooring
Residential Epoxy & Polyaspartic Garage Flooring in Jupiter, FL
Transform Your Garage with Resilient Floor Coatings
Say goodbye to dull and worn-out garage floors with Residential Epoxy & Polyaspartic Garage Flooring in Jupiter, FL. GarageExperts® of The Treasure Coast is here to offer you top-of-the-line floor coatings that not only protect your floor but also elevate its aesthetic appeal.
Our high-quality epoxy and polyaspartic coatings are specially designed to withstand heavy foot traffic, chemical spills, and impacts without cracking or chipping. With our Garage FX® technology, your concrete floors will be transformed into polished and eye-catching surfaces that will impress your guests.
Don't let your garage remain a neglected space. Revitalize your garage with our durable coatings and create an inviting atmosphere. Get your free estimate today by visiting our website or calling (772) 222-6280. Upgrade your garage with GarageExperts® now!
Garage Flooring Solutions in Jupiter, FL
Transform your garage into a stunning space with our custom flooring solutions in Jupiter, FL. With Garage FX® epoxy and polyaspartic flooring, you have access to over 140 colors and finishes, allowing you to create a truly unique and personalized look for your garage. From timeless classics to bold and attention-grabbing designs, we have something to suit every style and budget. Not only will our Garage FX® Flooring enhance the aesthetics of your home, but it can also boost its value and curb appeal for the long term. Explore the possibilities and make your garage a standout feature of your property.
Why Choose Garage FX® Floor Coatings
Garage FX® epoxy and polyaspartic floor coatings are an exceptional choice for residential flooring, offering an array of benefits. They are designed to provide not just aesthetic appeal but also high functionality and long-lasting durability. Here are some of the key advantages:
Superior Durability: One of the standout features of Garage FX® floor coatings is their extraordinary durability. These coatings are crafted to withstand heavy wear and tear, making them ideal for high-traffic areas in your home. They hold up excellently against daily use, ensuring your floors stay looking new for longer.
Stain Resistance: Our floor coatings offer excellent stain resistance. Whether it's an accidental coffee spill or dirty shoe prints, our coatings make cleaning up a breeze. This feature helps maintain the pristine look of your floors without requiring much effort.
Ease of Maintenance: Garage FX® epoxy and polyaspartic floor coatings are designed to be easy to maintain. Their non-chip and non-peel characteristics mean you don't have to worry about constant touch-ups or extensive repairs. A simple sweep and mop are often all that's needed to keep them looking their best.
Chemical Resistance: An added advantage of our floor coatings is their chemical resistance. They can resist damage from most household chemicals, making them a safe choice for spaces like garages or workshops where such spills may occur.
Quick Installation: Some of our floor coating installations can be completed in as little as a single day. This means less disruption to your schedule and quicker enjoyment of your new, improved flooring.
Garage FX® epoxy and polyaspartic floor coatings offer a robust, low-maintenance, and attractive flooring solution for any residential property.
Transform Your Garage Floor with GarageExperts® of The Treasure Coast
Experience the beauty and durability of our residential epoxy and polyaspartic garage floor coatings at GarageExperts® of The Treasure Coast. When you partner with us, you can expect the following benefits:
Expertise: Our team has years of experience, allowing us to deliver the highest quality finish for your garage floor.
Punctuality: We value your time and strive to be punctual for every appointment.
Free Onsite Estimates: Transparency is important to us, which is why we provide free on-site estimates. No surprises, just a clear understanding of the project scope and cost.
Customer Satisfaction: We aim to exceed your expectations and build lasting relationships. Your satisfaction with your garage floors is our top priority.
With GarageExperts® of The Treasure Coast, your garage floor can become a stunning showpiece, enhancing both the value and functionality of your home. Say goodbye to stains, cracks, and chips by entrusting our expert team. Don't settle for less when it comes to a garage floor that can handle anything. Choose GarageExperts® of The Treasure Coast.
Upgrade your garage floor to a resilient and easy-to-clean surface with our epoxy and polyaspartic flooring options in Jupiter, FL. Experience the benefits today by calling (772) 222-6280 or getting a quote online. Transform your garage with confidence!
Here Are Four Reasons Why You Should Choose Our Epoxy and Polyaspartic Flooring:
One-Day Installation

In many cases, our most popular epoxy and polyaspartic floor coating can be installed, and your garage returned to normal, in as little as one day. We can even transform your basement, pool deck, patio, or any other concrete floor.

Crack & Joint Repair

If your floor currently has cracks or other surface imperfections, our Garage FX® epoxy repair product is specially designed to treat cracks and joints. The key to a long-lasting epoxy and polyaspartic garage floor coating is proper preparation to ensure it lasts a lifetime.

Maintenance-Free

Garage floors need to be durable and withstand many hazards, from car wheels to lawn equipment to various chemicals. Our epoxy and polyaspartic flooring products are clear, abrasion-resistant, and easy to clean. They don't require waxing or other time-consuming upkeep and always remain aesthetically pleasing.

No Peeling Or Chipping

Our floor coating offers three times more adhesion than other epoxy and polyaspartic coatings, meaning you'll never have to worry about them peeling or chipping.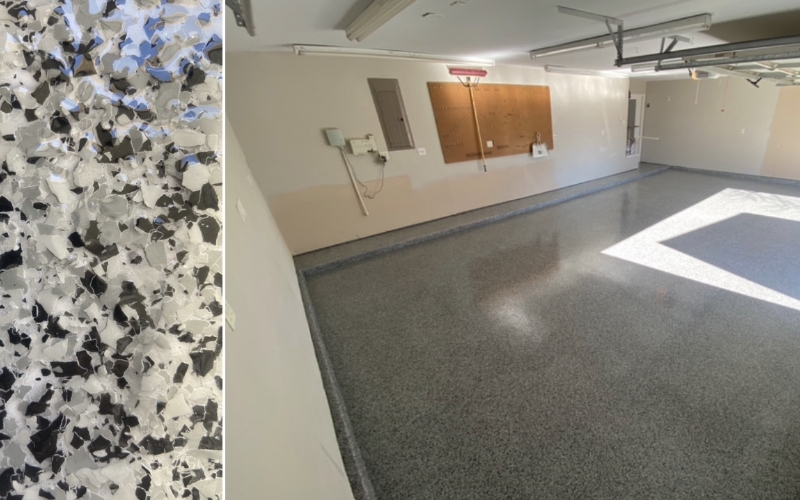 "

I just had to tell you that our garage looks fabulous!

"

Pamela S.

"

HIGHLY RECOMMEND! GARAGE EXPERTS TREASURE COAST is the way to go!!

"

Staci F.

""

Robert S
What Makes Garage FX® Epoxy & Polyaspartic
Technology Superior For Your Garage
American Made

Stronger Than
Concrete

No Peeling, Chipping, Or Staining

Resistant to Abrasions, Chemicals, and UV Rays

Over 140 Colors to Choose From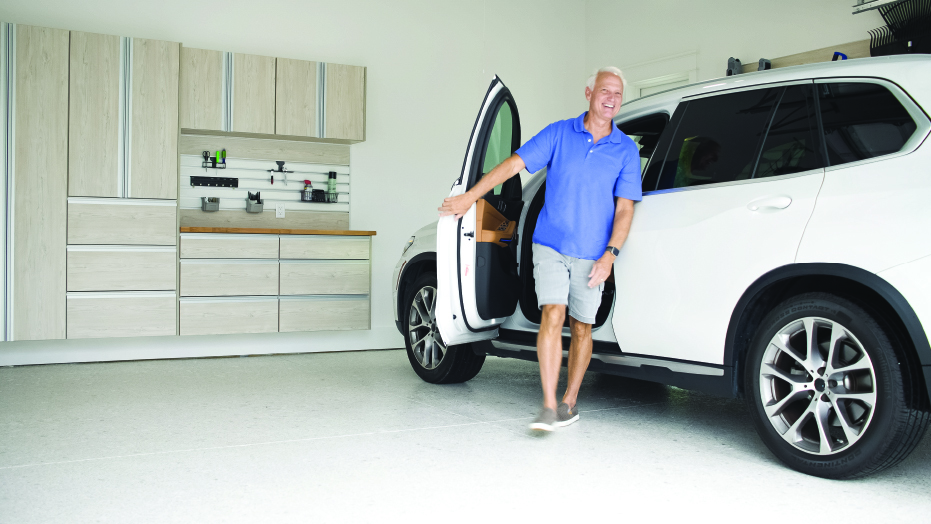 Committed To You
We believe in providing the highest
standard of service
In-Home Estimate Is Always Free

Time Is Valuable So We Arrive On Time

Always Get Upfront Pricing

Products Are Guaranteed For Life
Step 1

First, we prepare your concrete by grinding the surface and repairing any cracks, joints, or surface imperfections with our Garage FX® repair products.

Step 2

We roll out our Garage FX® epoxy primer that fuses directly into concrete to create an incredible bond that won't peel.

Step 3

We broadcast your choice of decorative flakes across the floor making sure to evenly cover the entire space for a seamless finish.

Step 4

Lastly, we apply our highly durable and abrasion-resistant polyaspartic topcoat to protect the floor from wear and tear, while maintaining an attractive, glossy finish for years to come.

Step 5

Now that GarageExperts® has extended the life of your floor and enhanced the look of your space, enjoy it!