GarageExperts® always strives to not only meet, but exceed, each customer's expectations for their garage renovation. One of our customers in Kansas City needed a complete garage makeover and the  GarageExperts® of Kansas City team stepped up and created a beautiful space that is also durable and easy to clean.
The process began with a visit from the GarageExperts® team to give a quick and free in-home estimate to assess the customer's needs, as well as make recommendations on how to declutter and maximize the space. During this meeting, the customer was shown a 3D rendering of their garage, allowing them to see how the finished result will look. Once the project began, it only took a few days to complete the installation of epoxy and polyaspartic floor coatings, custom cabinets, and slatwall organization system.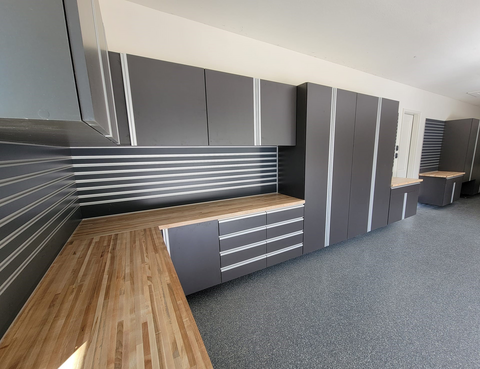 The completed look included the Garage FX® Flooring in Smoke for the beautiful grey floor color. To complement the floors, GarageExperts® of Kansas City added 20 Charcoal color cabinets with aluminum channel pulls for handles. These were custom-built to the customer's specific organizational needs. A beautifully finished 30-foot butcher block was used as the countertop throughout the garage. To finish the project, 80 feet of slatwall was added to hold all the additional items that need to be easily accessed or are bulky and can't fit easily inside cabinets such as rakes, golf clubs, and big toys. Customers can pick from a variety of baskets and hooks to use on the slatwall to hold these items.
To get your own garage renovation, contact your local GarageExperts®!