When considering finishes for your patio there are a few key factors to keep in mind: aesthetics, functionality, and durability.
The Garage FX® system delivers a beautiful, long-lasting, and safe decorative finish to your patio. The strength of our Garage FX® products, our proprietary fusing technology, and our 100 percent UV stable polyaspartic topcoats allow for installations in many environments showcasing the versatility of our system.
When it comes to aesthetics consider your décor in the environment as well as the exterior colors of your home. Complementing and contrasting adds interest and cohesiveness. With over 58 decorative flake color options available in various sizes, complementing your home and décor is effortless. The polyaspartic topcoats are available in gloss or matte finish, giving you the ability to choose a reflective or natural sheen.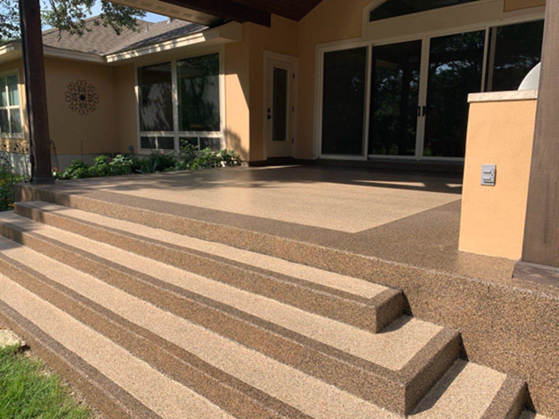 ​Functionality can dictate the use of the space. Exterior surfaces should not be slippery when wet. The Garage FX® system will provide a textured surface and with the integration of an anti-slip additive into the topcoat your patio will remain safe in all weather conditions.
Durability is key on exterior surfaces. The UV exposure degrades and fades stains and acrylic sealers quickly. The Garage FX® systems decorative flakes are all color stable and the polyaspartic topcoat is UV resistant preventing fading and providing greater longevity compared to other systems.
If you're tired of looking at your dull, cracked, and stained patio contact your local GarageExperts® to transform the look and feel of your exterior environment.