Commercial & Industrial Epoxy Flooring
Commercial & Industrial Epoxy & Polyaspartic Flooring in Long Island
Top-Quality Epoxy and Polyaspartic Coating for Industrial and Commercial Spaces
At GarageExperts® of Long Island, we take pride in offering a diverse range of epoxy and polyaspartic floor coatings for industrial and commercial spaces. Our Garage FX® flooring is specifically designed to conceal scuffs and wear and tear, resulting in more visually appealing and durable floors that can withstand the test of time.
Using our epoxy and polyaspartic coatings allows business owners to save valuable time and reduce maintenance costs by minimizing frequent upkeep. Our coatings are bright and long-lasting, easy to clean, and require minimal maintenance.
Regardless of your industry, we can customize our coatings to align with your brand standards and color schemes while meeting safety regulations. Trust GarageExperts® of Long Island to provide your business with high-quality flooring that enhances the look and functionality of your commercial or industrial space.
Upgrade your commercial space with our premium epoxy and polyaspartic flooring! Dial (516) 226-7882 or contact us online for a free on-site estimate to see how we can transform your space.
Garage FX® Commercial Epoxy and Polyaspartic Flooring Designed for Any Space
At GarageExperts® of Long Island, our team has ample experience providing epoxy and polyaspartic flooring to diverse commercial and industrial spaces. We recognize that each space has distinct requirements, and thus, we provide customized epoxy and polyaspartic flooring solutions to meet the specific needs of your space!
The commercial and industrial spaces we work with include:
Office buildings

Gyms

Laundromats

Restaurants

Schools and daycares

Commercial kitchens

Auto dealerships

Distribution warehouses

Manufacturing facilities

And so much more!
Professional Epoxy and Polyaspartic Floor Coating Installation Process
At GarageExperts® of Long Island, we understand the importance of having floors that are both aesthetically pleasing and functional. That's why we've developed a comprehensive installation process that will leave your floors looking and feeling brand new.
Our five-step process is designed to provide you with a long-lasting and visually appealing flooring solution for your commercial or industrial space. From preparing your concrete surface to the final topcoat application, we take care of everything, so you can sit back, relax, and enjoy your newly installed floors.
Our installation process includes:
​​Concrete Preparation

Epoxy Primer Application

Decorative Flake Broadcast

Polyaspartic Topcoat Application
In addition, our professionals will provide a complimentary on-site estimate and use the necessary preparation techniques to guarantee professional and flawless results so that you can ensure a flawless job!
Trust our experts to provide you with a flawless epoxy & polyaspartic flooring installation every time! Call (516) 226-7882 or request a free on-site estimate to get started today!
Here Are Four Reasons Why You Should Choose Our Epoxy and Polyaspartic Flooring:
One-Day Installation

In many cases, our most popular epoxy and polyaspartic floor coating can be installed, and your garage returned to normal, in as little as one day. We can even transform your basement, pool deck, patio, or any other concrete floor.

Crack & Joint Repair

If your floor currently has cracks or other surface imperfections, our Garage FX® epoxy repair product is specially designed to treat cracks and joints. The key to a long-lasting epoxy and polyaspartic garage floor coating is proper preparation to ensure it lasts a lifetime.

Maintenance-Free

Garage floors need to be durable and withstand many hazards, from car wheels to lawn equipment to various chemicals. Our epoxy and polyaspartic flooring products are clear, abrasion-resistant, and easy to clean. They don't require waxing or other time-consuming upkeep and always remain aesthetically pleasing.

No Peeling Or Chipping

Our floor coating offers three times more adhesion than other epoxy and polyaspartic coatings, meaning you'll never have to worry about them peeling or chipping.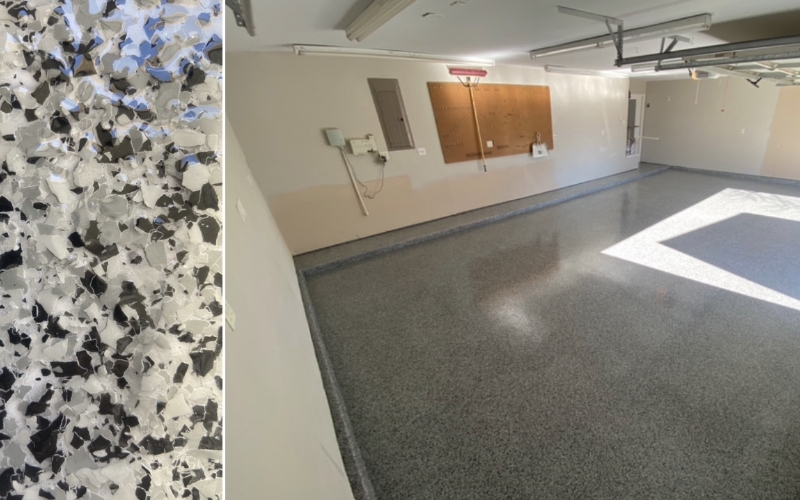 "

I highly recommend Garage Experts of Long Island.

"

Alejandro Finardo

"

"Sal is professional, nice, responsive, and always on time. The garage turned out great. Highly recommend. "

"

Michael Schwalb

"

Sal was great and kept his word.

"

Rob A.
American Made

Stronger Than
Concrete

No Peeling, Chipping, Or Staining

Resistant to Abrasions, Chemicals, and UV Rays

Over 140 Colors to Choose From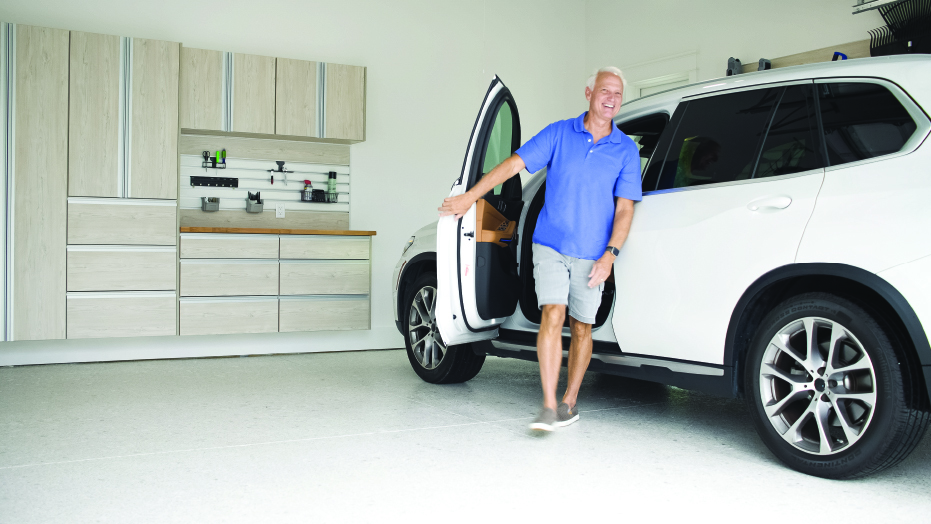 Committed To You
We believe in providing the highest
standard of service
In-Home Estimate Is Always Free

Time Is Valuable So We Arrive On Time

Always Get Upfront Pricing

Products Are Guaranteed For Life
Step 1

First, we prepare your concrete by grinding the surface and repairing any cracks, joints, or surface imperfections with our Garage FX® repair products.

Step 2

We roll out our Garage FX® epoxy primer that fuses directly into concrete to create an incredible bond that won't peel.

Step 3

We broadcast your choice of decorative flakes across the floor making sure to evenly cover the entire space for a seamless finish.

Step 4

Lastly, we apply our highly durable and abrasion-resistant polyaspartic topcoat to protect the floor from wear and tear, while maintaining an attractive, glossy finish for years to come.

Step 5

Now that GarageExperts® has extended the life of your floor and enhanced the look of your space, enjoy it!