Garage Slatwall
Garage Slatwall Systems in Long Island
Versatile Storage, Organization & Display Options
With GarageExperts®, residents of Hicksville and surrounding areas on Long Island can reclaim their garages with the help of our durable, adjustable garage slatwall systems. Crafted with durable materials to ensure longevity and professionally installed to ensure a perfect fit, our garage slatwall panels can be adjusted to meet your changing storage needs for years to come.
GarageExperts®'s systems offer the flexibility to store a vast range of items, from baskets and hooks to a myriad of accessories. This helps to free up your floor area and workspace from clutter. Beyond providing purely functional storage, a slatwall system can transform your garage into a clean-looking, inviting space. With GarageExperts®, you get a custom storage solution that promises an orderly and clean garage for years to come. We understand the importance of organization in turning your garage into a practical space, and offer an array of personalized garage storage solutions to help you achieve your dream garage.
Are you ready to maximize your garage's wall space? Request a free estimate online or call (516) 226-7882 to learn more about our garage slatwall storage solutions!
Garage Slatwall Systems Are Great for Storing and Organizing:
Gardening equipment

Woodworking tools

Auto parts

Bikes

Sports equipment

Outdoor gear

Kids toys

And more!
Create The Ultimate Custom Slatwall System For Your Garage
A slatwall system from GarageExperts® of Long Island is your answer to a clutter-free garage. It provides easy access storage for bulky or irregularly shaped items that typically don't fit in conventional garage cabinets or shelves. Homeowners can systematically store items like gardening tools, baseball equipment, golf gear, and oversized toys instead of leaving them in a disorganized heap.
Our team of garage renovation experts excels in pinpointing each client's unique needs and devising personalized garage storage solutions that merge slatwall organization with our other reliable storage and flooring options. We recognize the significance of an organized garage and are ready to install your slatwall system to ensure it flawlessly suits your space. Not only will you regain control of a messy garage, but a well-organized slatwall system can also boost your productivity by making sure each item is within arm's reach when needed. With our support, you can convert an unorganized space into a clean and efficient workspace you'll love to use.
Maximize your wall space and keep your most important tools easily accessible. Contact us now at (516) 226-7882 or conveniently schedule your free on-site estimate online.
Here Are Four Reasons Why You Should Choose Our Epoxy and Polyaspartic Flooring:
One-Day Installation

In many cases, our most popular epoxy and polyaspartic floor coating can be installed, and your garage returned to normal, in as little as one day. We can even transform your basement, pool deck, patio, or any other concrete floor.

Crack & Joint Repair

If your floor currently has cracks or other surface imperfections, our Garage FX® epoxy repair product is specially designed to treat cracks and joints. The key to a long-lasting epoxy and polyaspartic garage floor coating is proper preparation to ensure it lasts a lifetime.

Maintenance-Free

Garage floors need to be durable and withstand many hazards, from car wheels to lawn equipment to various chemicals. Our epoxy and polyaspartic flooring products are clear, abrasion-resistant, and easy to clean. They don't require waxing or other time-consuming upkeep and always remain aesthetically pleasing.

No Peeling Or Chipping

Our floor coating offers three times more adhesion than other epoxy and polyaspartic coatings, meaning you'll never have to worry about them peeling or chipping.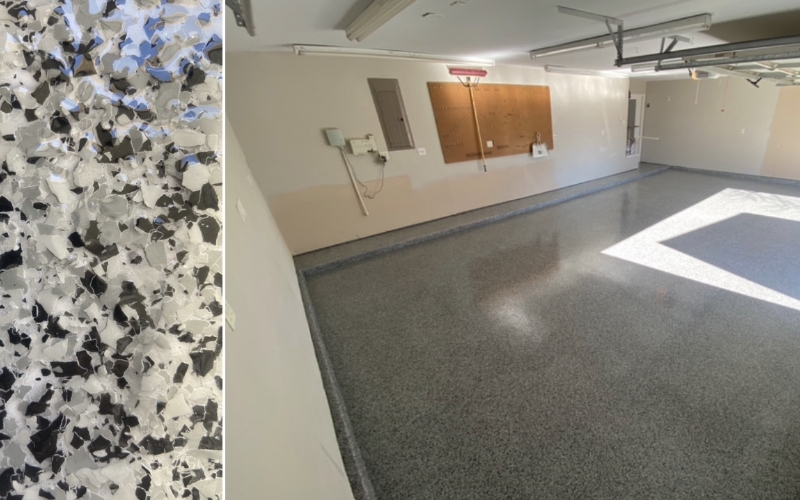 "

"Great quality, great service! Completed timely"

"

Ralph Bianco

"

Sal did my floors in my garage and I could not be any happier.

"

Jesse Seigman

"I recommend garage experts without reservation!"

Marc (Woody) Wasserman
What Makes Garage FX® Epoxy & Polyaspartic
Technology Superior For Your Garage
American Made

Stronger Than
Concrete

No Peeling, Chipping, Or Staining

Resistant to Abrasions, Chemicals, and UV Rays

Over 140 Colors to Choose From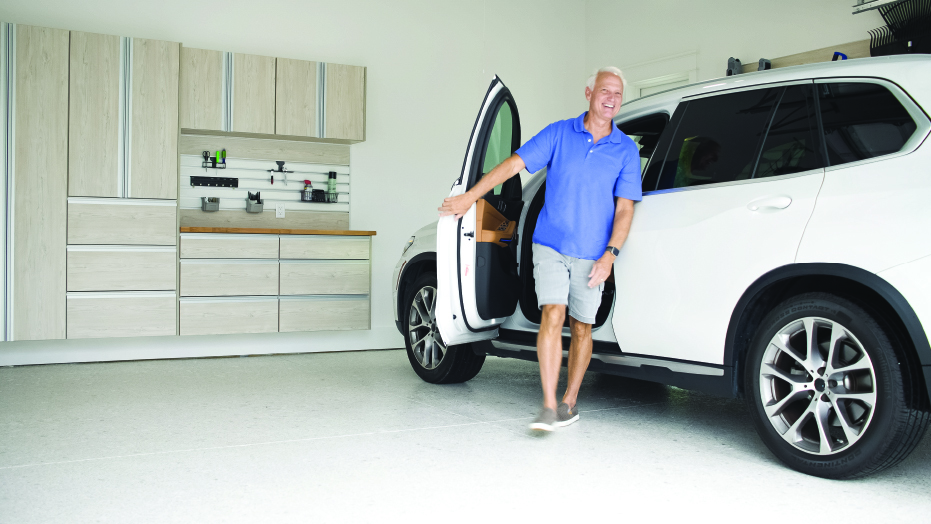 Committed To You
We believe in providing the highest
standard of service
In-Home Estimate Is Always Free

Time Is Valuable So We Arrive On Time

Always Get Upfront Pricing

Products Are Guaranteed For Life
Step 1

First, we prepare your concrete by grinding the surface and repairing any cracks, joints, or surface imperfections with our Garage FX® repair products.

Step 2

We roll out our Garage FX® epoxy primer that fuses directly into concrete to create an incredible bond that won't peel.

Step 3

We broadcast your choice of decorative flakes across the floor making sure to evenly cover the entire space for a seamless finish.

Step 4

Lastly, we apply our highly durable and abrasion-resistant polyaspartic topcoat to protect the floor from wear and tear, while maintaining an attractive, glossy finish for years to come.

Step 5

Now that GarageExperts® has extended the life of your floor and enhanced the look of your space, enjoy it!