Garage Cabinets
Garage Cabinets and Slatwall in Long Island
Garage Storage Solutions Near You
Optimize your garage space in Hicksville, NY with GarageExperts® customizable cabinet solutions! Reclaim your space and get organized with adjustable cabinets and slatwall organization systems, designed for strength and generous storage capacity in a variety of colors. Experience expert installation and a lifetime warranty on all cabinets. Embrace the full potential of your garage and request a free on-site estimate today!
Benefits of Our Garage Cabinet Solutions in Hicksville, NY
When selecting cabinets or shelving for your garage, durability is paramount. GarageExperts® of Long Island offers cabinets that withstand the rigors of the garage and excel in any climate. All our cabinets are constructed in the USA at our Dallas, Texas facility. Featuring ¾-inch shelves and walls with full backs, they can handle greater weight loads than other brands. With our custom storage solutions, create the perfect mix of cabinets, shelving, and more.
Benefits of GarageExperts® Custom Cabinets:
Adjustable Shelves: Our ¾-inch adjustable shelves handle heavy loads and save you space.
Shelf Safety Lock: Your shelves remain secure with our standard safety lock.
Easy to Clean: Our shelves have full, white melamine interiors, making them easy to wipe clean.
Full Extension Drawer Slides: Access the back of drawers effortlessly with full extension drawer slides.
Standard Pulls: Our door and drawer pulls are brushed-finished, durable, and clean-looking.
Optional Channel Pulls: Enhance the look of your cabinets with our optional black and silver channel pulls.
European Style Door Hinges: Concealed hinges offer a cleaner and more sophisticated look, with a slow closing option.
Full Backs: All our cabinets have full backs for added durability.
Applied Ends: These ends give your cabinets a finished, European look when attached to the end of a run.
Let the GarageExperts® of Long Island team customize a cabinet system perfectly tailored to your storage needs. Explore variations of pantry, overhead, and base cabinets in multiple sizes and configurations. Trust us to design the ideal solution for your space.
Why Invest In Custom Garage Cabinets
With GarageExperts® of Long Island's custom garage cabinets, you have a solution that not only enhances the functionality of your garage but also adds a touch of elegance to it. Here are some compelling reasons why our custom garage cabinets should be your go-to choice:
Organization Made Easy: Our garage cabinets transform your cluttered garage into an organized haven. With dedicated spaces for all your tools, equipment, and other belongings, you will always know where to find what you need. Say goodbye to the days of rummaging through piles of items to locate a single tool.
Customizable to Your Needs: We know that every garage is different, and so are your storage needs. That's why our cabinets are custom-made, and designed to fit perfectly into your garage. Whether you need small cabinets for hand tools or larger ones for heavy-duty equipment, we've got you covered.
Maximize Your Space: By using vertical space efficiently, our cabinets help you free up floor space. This allows you to use your garage for more than just storage - think a home gym, a workshop, or even an extra living area.
Aesthetically Pleasing: Our cabinets are not just functional; they are also designed to enhance the visual appeal of your garage. With a wide range of styles and finishes to choose from, you can match the cabinets to your home's decor.
Built to Last: Quality is at the heart of everything we do. Our cabinets are made from durable materials and constructed to withstand the rigors of a busy garage environment.
Experience the GarageExperts® of Long Island difference today and take the first step towards a more organized, spacious, and beautiful garage.
Transform your garage into an organized haven with our custom garage storage cabinets in Hicksville, NY! Call (516) 226-7882 or contact us online to get started!
Here Are Four Reasons Why You Should Choose Our Epoxy and Polyaspartic Flooring:
One-Day Installation

In many cases, our most popular epoxy and polyaspartic floor coating can be installed, and your garage returned to normal, in as little as one day. We can even transform your basement, pool deck, patio, or any other concrete floor.

Crack & Joint Repair

If your floor currently has cracks or other surface imperfections, our Garage FX® epoxy repair product is specially designed to treat cracks and joints. The key to a long-lasting epoxy and polyaspartic garage floor coating is proper preparation to ensure it lasts a lifetime.

Maintenance-Free

Garage floors need to be durable and withstand many hazards, from car wheels to lawn equipment to various chemicals. Our epoxy and polyaspartic flooring products are clear, abrasion-resistant, and easy to clean. They don't require waxing or other time-consuming upkeep and always remain aesthetically pleasing.

No Peeling Or Chipping

Our floor coating offers three times more adhesion than other epoxy and polyaspartic coatings, meaning you'll never have to worry about them peeling or chipping.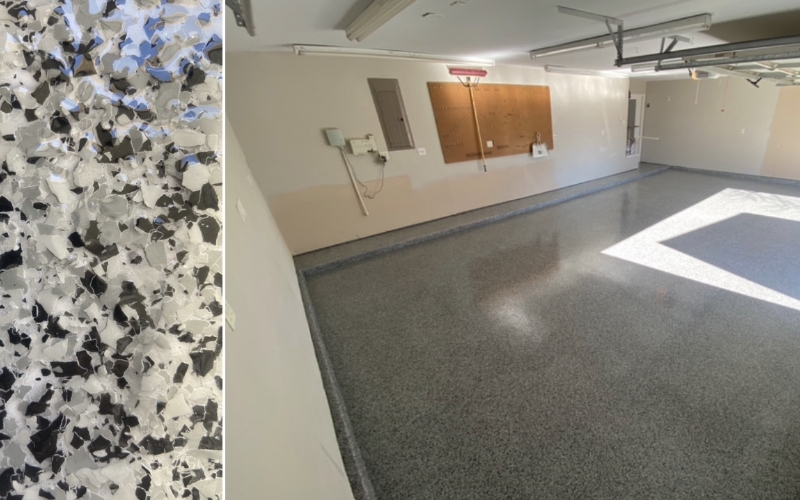 "

An amazing g job and everything was spotless when they finished.

"

David Kaye

"

Sal did our garage and it looks beautiful!

"

Erin Hagris

"

I would definitely recommend Garage Experts to family & Friends.

"

Rene Russo-Elio
What Makes Garage FX® Epoxy & Polyaspartic
Technology Superior For Your Garage
American Made

Stronger Than
Concrete

No Peeling, Chipping, Or Staining

Resistant to Abrasions, Chemicals, and UV Rays

Over 140 Colors to Choose From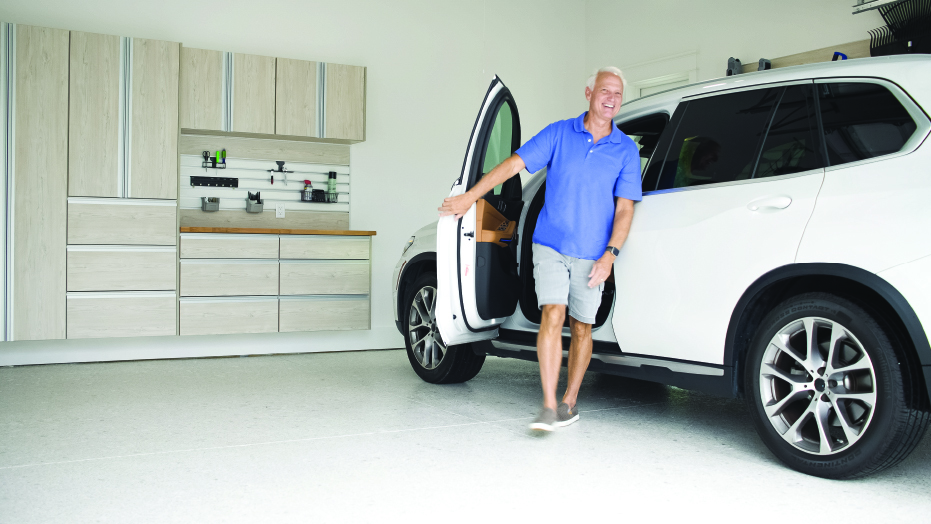 Committed To You
We believe in providing the highest
standard of service
In-Home Estimate Is Always Free

Time Is Valuable So We Arrive On Time

Always Get Upfront Pricing

Products Are Guaranteed For Life
Step 1

First, we prepare your concrete by grinding the surface and repairing any cracks, joints, or surface imperfections with our Garage FX® repair products.

Step 2

We roll out our Garage FX® epoxy primer that fuses directly into concrete to create an incredible bond that won't peel.

Step 3

We broadcast your choice of decorative flakes across the floor making sure to evenly cover the entire space for a seamless finish.

Step 4

Lastly, we apply our highly durable and abrasion-resistant polyaspartic topcoat to protect the floor from wear and tear, while maintaining an attractive, glossy finish for years to come.

Step 5

Now that GarageExperts® has extended the life of your floor and enhanced the look of your space, enjoy it!