Residential Epoxy Flooring
Residential Epoxy & Polyaspartic Flooring in Fargo, ND
Transform Your Residential Flooring
Unleash the true potential of your residential concrete floor with a breathtaking transformation. While standard concrete floors may seem lackluster and flawed, the right coating can completely revolutionize their appearance. At GarageExperts® of The Red River Valley, we specialize in delivering premium residential epoxy and polyaspartic flooring solutions that not only enhance the aesthetics of your home but also introduce a new level of functionality.
Our dedicated team specializes in creating visually appealing and long-lasting residential transformations. Choose from our high-quality flooring options to enhance both the aesthetics and functionality of your space.
Ready to transform your space with a durable and visually stunning epoxy and polyaspartic floor coating in Fargo, ND? Contact us today at (701) 419-0191 or reach out online to discover our solutions that will elevate the functionality of your floors.
Why Choose Garage FX® Flooring?
Experience a world of versatility with our extensive selection of Garage FX® Flooring styles, designed to cater to the unique needs and preferences of our valued customers. Our cutting-edge coating technology penetrates deep into the concrete, resulting in a resilient, long-lasting, and visually appealing floor. Engineered to withstand even the harshest conditions, our epoxy and polyaspartic floor coatings provide unparalleled protection and durability, ensuring your garage remains both stunning and structurally sound.
Here are some key benefits that make our floor coatings stand out:
Extreme Durability: Our Garage FX® epoxy and polyaspartic floor coatings are built to last. They can withstand daily wear and tear, ensuring that your garage floor remains in excellent condition for years to come.
Stain-Resistant: Say goodbye to stubborn stains. Our floor coatings are stain-resistant, making them easy to clean and maintain. This feature also contributes to the longevity of the coating.
No Chipping or Peeling: One of the major advantages of our floor coatings is their resistance to chipping and peeling. This means your garage floor will continue to look as good as new, regardless of the traffic it endures.
Quick Installation: We value your time. That's why some of our floor coating installations can be completed in just a single day, minimizing disruption to your routine.
Investing in our residential Garage FX® epoxy and polyaspartic floor coatings means investing in the longevity and beauty of your garage space. Upgrade your garage floor today and experience the GarageExperts® difference.
Why Partner With Our Fargo Professionals
When it comes to epoxy and polyaspartic flooring, enlisting the services of a professional company offers numerous benefits. Here are some key advantages:
Expertise and Experience: Our professionals possess the knowledge and experience to deliver a seamless and high-quality epoxy and polyaspartic floor application.
Proper Surface Preparation: Our team ensures meticulous surface preparation, including cleaning and repairing, to achieve optimal adhesion and longevity of the coating.
Customization Options: We offer a variety of customization options that match your unique style, our extensive selection of over 140 colors and design choices ensures that you'll find the ideal choice for your space.
Time and Cost Efficiency: Hiring our team of professionals saves time and effort, ensuring efficient completion.
Longevity and Durability: Professionally installed epoxy and polyaspartic floors are designed to last, withstanding heavy traffic, chemicals, stains, and other potential damages.
Warranty and Aftercare: GarageExperts® of The Red River Valley provides a lifetime warranty and offers guidance on maintenance, maximizing the lifespan and appearance of your epoxy floor.
Our Lifetime Warranty
At GarageExperts® of The Red River Valley, we have the utmost confidence in both the exceptional quality of our Garage FX® flooring and the expertise of our installation team. That's why we proudly offer a lifetime warranty on our Garage FX® flooring. With our professional installation services, your new epoxy and polyaspartic coating will be seamlessly applied, eliminating any concerns of peeling or chipping. Our extensively trained team prioritizes the necessary preparation work, guaranteeing a lifetime of satisfaction with your garage flooring investment.
Enhance your garage in the Red River Valley with our top-quality epoxy and polyaspartic garage floor coatings. Contact us today at (701) 419-0191 or online to schedule a consultation. Our experienced team will transform your space in Fargo, ND and surrounding areas.
Here Are Four Reasons Why You Should Choose Our Epoxy and Polyaspartic Flooring:
One-Day Installation

In many cases, our most popular epoxy and polyaspartic floor coating can be installed, and your garage returned to normal, in as little as one day. We can even transform your basement, pool deck, patio, or any other concrete floor.

Crack & Joint Repair

If your floor currently has cracks or other surface imperfections, our Garage FX® epoxy repair product is specially designed to treat cracks and joints. The key to a long-lasting epoxy and polyaspartic garage floor coating is proper preparation to ensure it lasts a lifetime.

Maintenance-Free

Garage floors need to be durable and withstand many hazards, from car wheels to lawn equipment to various chemicals. Our epoxy and polyaspartic flooring products are clear, abrasion-resistant, and easy to clean. They don't require waxing or other time-consuming upkeep and always remain aesthetically pleasing.

No Peeling Or Chipping

Our floor coating offers three times more adhesion than other epoxy and polyaspartic coatings, meaning you'll never have to worry about them peeling or chipping.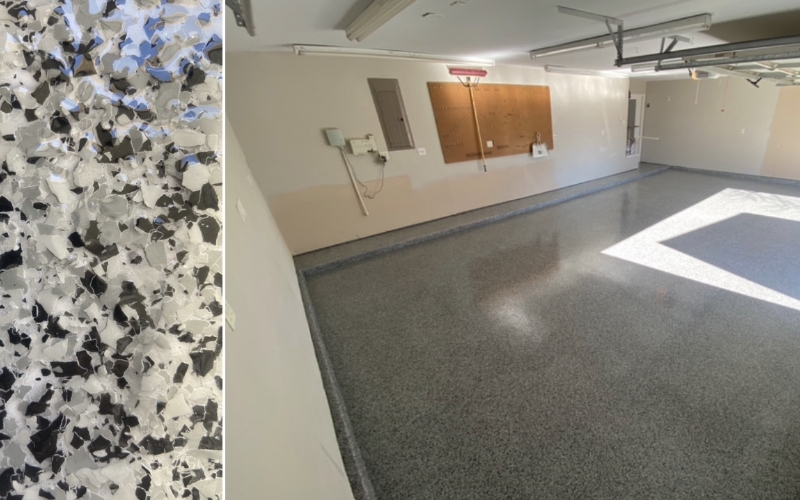 "We greatly appreciate your prompt service, quality workmanship and your professionalism."

GarageExperts® Customer

San Antonio, TX

"I noticed their "LIFETIME WARRANTY" and couldn't believe it!"

GarageExperts® Customer

Fort Worth, TX

"A Man-Cave Making Machine!"

GarageExperts® Customer

Denver, CO
What Makes Garage FX® Epoxy & Polyaspartic
Technology Superior For Your Garage
American Made

Stronger Than
Concrete

No Peeling, Chipping, Or Staining

Resistant to Abrasions, Chemicals, and UV Rays

Over 140 Colors to Choose From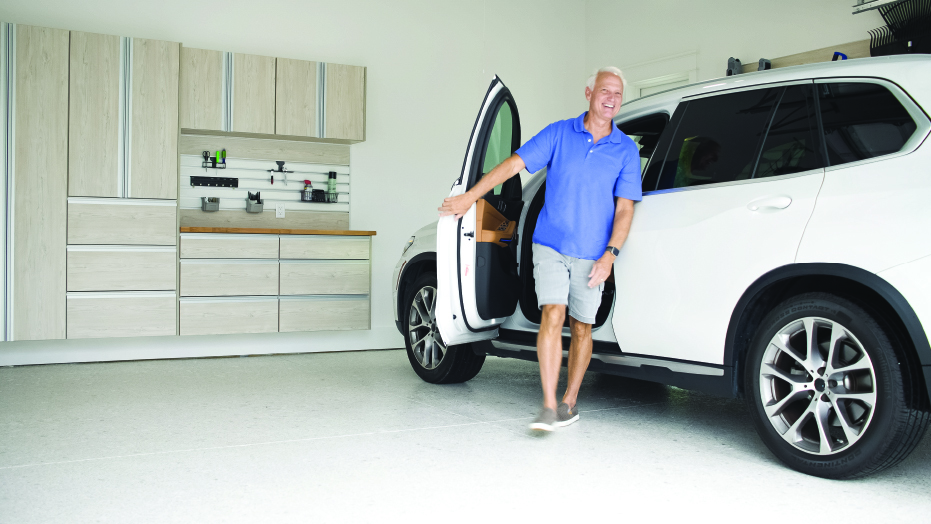 Committed To You
We believe in providing the highest
standard of service
In-Home Estimate Is Always Free

Time Is Valuable So We Arrive On Time

Always Get Upfront Pricing

Products Are Guaranteed For Life
Step 1

First, we prepare your concrete by grinding the surface and repairing any cracks, joints, or surface imperfections with our Garage FX® repair products.

Step 2

We roll out our Garage FX® epoxy primer that fuses directly into concrete to create an incredible bond that won't peel.

Step 3

We broadcast your choice of decorative flakes across the floor making sure to evenly cover the entire space for a seamless finish.

Step 4

Lastly, we apply our highly durable and abrasion-resistant polyaspartic topcoat to protect the floor from wear and tear, while maintaining an attractive, glossy finish for years to come.

Step 5

Now that GarageExperts® has extended the life of your floor and enhanced the look of your space, enjoy it!