Meet Shane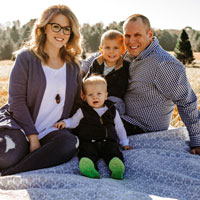 Meet the Owner of GarageExperts® of North Alabama
Thank you for visiting GarageExperts® of North Alabama. Local owner Shane Turner has spent the last 18 years working in various sales and customer service roles. During that time, he has developed a strong passion for serving his customers. Shane enjoys DIY projects around the house which led to his desire of pursuing the opportunity to start his own business. Strong attention to detail and his passion to treat everyone with excellent customer service, are two of the reasons Shane chose to partner with GarageExperts®. Shane, along with his wife and two sons, resides in New Market, Alabama and enjoys the benefits of both country living and having the city of Huntsville so close.
Shane is committed to providing Rocket City and the surrounding areas superior service, with the customer's satisfaction always being his top priority. At GarageExperts® we aim to take a little chaos out of your life by transforming your garage with quality Epoxy Floor Coatings and Garage Storage solutions.
GarageExperts® is so confident of its product that it offers a lifetime warranty and best yet, all our products are made in the USA. Please contact us today for a free on-site estimate and let us know how we can help you. We look forward to serving and showing you what GarageExperts® can do!